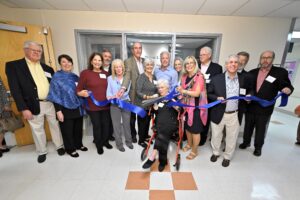 Phelps Hospital has opened The Thomas E. and Alice Marie Hales Caregivers Center, a dedicated space for family caregivers to rest, reflect and refuel. This exclusive space includes a resource library, a respite area with a massage chair, a private section for confidential consultations, a kitchenette with refreshments, and a desk area that includes computers, telephones, and internet access. The new center is named in honor of the Hales family, whose generosity and leadership helped create this important community asset.
This special sanctuary is a physical extension of the Phelps Hospital Caregivers Program launched virtually in 2020. The program provides caregivers with emotional support, counseling, access to social workers, and other resources necessary to navigate the current health care system. In addition, it offers educational and training programs, as well as amenities, such as hospitality and care baskets.
"Helping patients and family caregivers goes to the heart of what we do. If caregivers are supported, then patients will be better cared for, too," said Phelps' executive director Eileen Egan, RN, JD. "While we prioritize patient care in the hospital setting, this new center will allow us to enhance and expand the support we can provide to our patients' loved ones. This type of hospital program fills a gap in services sorely needed in today's health care system."
According to the National Alliance for Caregiving, there are approximately 53.5 million caregivers providing care for family members in the United States, and the New York State Office of the Aging estimates that there are 4.1 million such caregivers in New York alone.
"At some point in time, every family will go through the emotional and physical stress of caring for a loved one. Caregivers today need help," said Lianne Hales-Dugan, daughter of Thomas E. and Alice Marie Hales. "This center is a lifesaver for families who need the tools and support to navigate a complicated health care landscape. Our family is proud to support this important resource for the community in which we live."
The Thomas E. and Alice Marie Hales Caregivers Center at Phelps is fashioned after Northern Westchester Hospital's Ken Hamilton Caregivers Center (KHCC) in Mount Kisco, NY. It has become the template for 24 similar facilities at hospitals across the country, including at six Northwell Health hospitals on Long Island and the Mayo Clinic in Arizona.
For more information about the Thomas E. and Alice Marie Hales Caregivers Center at Phelps or to request a consult, visit https://phelpsgiving.org/caregivers-center.