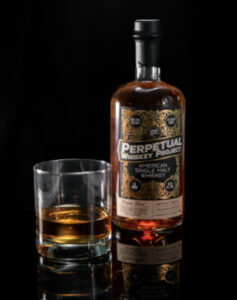 Perpetual Whiskey Project has launched their premier New York Single Malt Whiskey to much acclaim after many years in the making.  The non-chill filtered, double cask whiskey is a beautiful marriage of straight whiskey that has been aged in ex-bourbon, sherry, and new American oak barrels.  Parent company, Clearbook Distilling, is pleased to embark on the Perpetual Whiskey Project after many patient years.
The complex yet balanced spirit has matured in Perpetual Whiskey's barrelhouse for many years while each cask achieved its optimal characteristics for the premier blend.  The single malt's aroma is brimming with fruity esters, toffee notes, and a subtle touch of peat smokiness. On the palate, the whiskey displays sweet flavors of sherry and red wine that transition to a complex savory character with just the right amount of vanilla, grass and smoke flavors.
On the cusp of being an official designation in the United States, American Single Malt Whiskey has gained traction with craft distilleries looking to create an elevated whiskey of note to live alongside the designations of rye and bourbon that are protected by U.S. regulation.  The Treasury Department's Tax and Trade Bureau (TTB) is set to establish a standard of identity for American Single Malt Whiskey.
Perpetual Whiskey Project implements unique distillation methods to create their Single Malt, using an Italian column still as opposed to the more conventional pot still used by most whiskey distilleries in America.  They have utilized equipment in a way that it was not designed for, pulling unique attributes from the process as well as the premium ingredients. By not following convention, the distillation process is better suited for a unique American spirit- boasting the complexity and depth of flavor to rival Scotch.
"We are beyond excited to introduce our newest and finest distilled whiskey.  For years we have been chasing the ideal whiskey profile in our head and I am pleased to say, through proper maturation and meticulous blending, our New York Single Malt is the fruition of that vision" explains Scott Vaccaro, founder and liquid visionary of Perpetual Whiskey Project.  
Vaccaro is no stranger to the alcohol and beverage industries.  He is the owner and master brewer of Captain Lawrence Brewing Company, founded in 2006, and has won countless accolades for his beer creations.  Vaccaro is also the owner and visionary for Current Spirits, a Westchester distillery of note making vodka, gin, and exotic canned cocktails that have gained acclaim for their smooth and approachable nature.    
Vaccaro explains "If you want to drink the whiskey of your dreams, you just have to make it yourself!" It took 3 years of dedication and methodology to capture the vision of what this premier single malt should taste like.  The Perpetual Whiskey Project celebrates the actualization of that innovation.  
McLain Cheney, Distillery Operations Manager, adds "The Perpetual Whiskey Project is our declaration that all good things don't have to have an end nor the need to remain the same. Each release of Perpetual Whiskey will be unique and therefore captures a special event in time. This first release of blended, single malt whiskey is that moment this endless process begins. The flavor extends far beyond the contents of the bottle and represents our expression of possibility and endless promise."