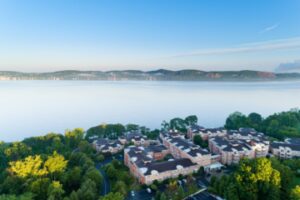 For the fifth year in a row, Kendal on Hudson received the "AVP Seal" based on their actuarial study results for fiscal year 2022. The AVP Seal is a designation developed by A.V. Powell & Associates and indicates that a community is placed at the top tier among its peer Life Plan Communities during the specified fiscal year. Less than 40% of clients meet these criteria, which are based on an internal peer review of a community's most recent actuarial study.
In addition to the impressive AVP Seal, Kendal on Hudson has gained a Fitch Rating BBB+ with a stable outlook. The Fitch Ratings are forward-looking opinions on the ability of the entity to meet financial commitments. Ratings assigned by Fitch are opinions based on established, approved and published criteria, adding to their merit. Fitch Ratings hold widespread recognition as necessary for investment decisions, borrowing costs, market confidence and more.
"Kendal on Hudson is proud to receive these prestigious financial stamps of approval," shares Steve Fishler, Interim CEO. "Kendal on Hudson is committed to unwavering financial excellence and prudent management of our resources. It's important to appreciate community recognition for these efforts."
To learn more about Kendal on Hudson, visit kohud.kendal.org or call 914-922-1000.