Golf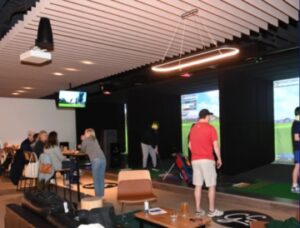 zon, announced the opening of their second Golfzon Social location, a state-of-the-art indoor golf entertainment venue, on Central Ave in Greenburgh. The new location will open on Saturday, August 12.
Located at 691 Central Park Ave, Golfzon Social brings together the most technologically advanced golf simulators on the market – Golfzon's TwoVision – with a stylish, energetic atmosphere for the ultimate social experience. Attracting avid golfers, casual golfers and non-golfers alike, it features a creative, chef-driven menu, hand-crafted cocktails and craft beers. An industry-leading audio visual package makes Golfzon Social the destination for sports viewing and for those looking to go beyond the local sports bar.
The Scarsdale location features 16 TwoVision simulator bays and flat screen TVs throughout. The vibe is modern and is designed to be a venue for hosting events or a night out. Golfzon Social's first location opened at the Palisades Center in West Nyack this past February. To learn more or book simulator time, please visit www.golfzonsocial.com.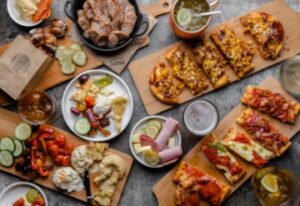 The Golfzon Social experience delivers numerous ways to socialize, dine and play golf. League and tournament play lets avid and casual golfers virtually compete around the world and a resident PGA Professional is available for guidance and lessons, no matter the season or weather. Non-golfers can get started in the game in a non-intimidating, welcoming setting or enjoy the board and patio games around the venue.
One of the big differentiators between Golfzon Social and its competitors is the technology that comes with the TwoVision simulator. Features include high speed sensors that capture club head and ball flight data for realistic performance feedback, a 24-way directional moving swing plate that recreates true stand and lie conditions, auto-tee and ball retrieval system, a virtual caddie to give players advice and multi-surface mats to imitate the fairway, rough and bunkers. The system also boasts realistic graphics that are 130% crisper than previous generations, as well as an LED putting guide to read greens.
RealFood Hospitality, Strategy & Design, a core Troon operating brand, is leading the food and beverage development and design for Golfzon Social locations. The menu is designed to bring people together and includes shareable appetizers that are familiar, approachable and golf-friendly, as well as larger meals suitable for a date night or business meeting – all with a chef's twist. Food is available for either dine-in or takeout and is reflective of a variety of pan global culinary influences, while also including locally sourced fare. The beverage menu will feature a selection of craft cocktails and craft beers.
For more information or to book a bay, visit Golfzonsocial.com.