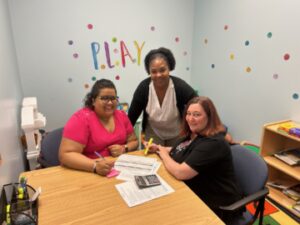 Childcare costs are often the largest household expense. Parents struggle to find quality, reliable, affordable care, and many are unaware The Child Care Council of Westchester (the Council) serves as a one-stop shop for childcare resources, referrals and information.  
The Council, a 501(c)3 not-for-profit organization, recommends parents choose a childcare program regulated by the New York State Office for Children and Family Services. The Council can help parents find a quality program that ensures the health and safety of children while providing strong opportunities for learning. It is a free resource that also helps pay for childcare for parents who qualify.  
Its strategic plan focuses on a particular community. Based on census data and involvement with Peekskill community leaders, the Council joined the Hudson Valley Gateway Chamber of Commerce in December 2022. It hopes to not only support young children struggling with behavioral and/or developmental challenges, but also to increase the financial stability of the local childcare programs and assist employers with meeting the childcare needs of their current and potential workforce.  
"The Peekskill City School District, the Office of the Mayor, City Manager, Common Council and Peekskill business leaders have been exceptionally welcoming," says Nicole Masucci, the Child Care Council's Director of Family & Employer Services. "The Gateway Chamber is the first the Council has joined.  It is a lively and friendly group whose members are truly invested in the community."  
In addition to providing services to parents and employers, the Council advocates policies and resources that improve quality, affordability and accessibility of childcare. It assists childcare providers with implementing quality improvement strategies to not only grow their businesses but ensure they meet legal obligations and offer the best possible care to children.  
Masucci says, "With the help of the Peekskill City School District, the Council recently hosted a meeting for Peekskill childcare programs to learn more about their needs and to share information on our services. Some of the childcare programs we've worked with before and others we met for the first time. We expect to offer training sessions, consultation, business support and resources." 
The Council attended the Peekskill City School District's Saturday Academy and the Peekskill Rotary Cherry Blossom Festival, where Council staff met members of the community and spoke with families about their needs and the Council's services.  
Since late May, through the Westchester Library System and Caring for the Hungry and Homeless of Peekskill (CHHOP), the Council is distributing children's books with information about its services at Fred's Pantry located at 137 North Division Street. 
Financial assistance is available to pay for childcare, after-school care or summer camp. Families are screened for financial assistance eligibility through Westchester County, and the Westchester Works Child Care Scholarship, administered by the Child Care Council of Westchester. "The scholarship has high-income limits of up to $92,120 for a family of three and covers 50-60% of childcare costs," says Masucci.  
The Council welcomes inquiries from parents seeking childcare, childcare providers interested in learning about its services, and employers wanting to connect their workforce to free childcare referral services. 
914-761-3456 X140

 

childcarewestchester.org

 
Donna Landi, a resident of Sleepy Hollow, has contributed to River Journal, Hudson Valley Magazine, and other publications.