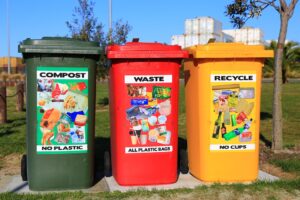 Right now, we are all keenly aware of how important it is that we make a real effort to cut down our carbon footprint. It seems as though every week brings a new story from somewhere in the world about the visible effects of climate change, from the fires in Greece to the floods in Japan. At times it can feel like there is little that we can do in the face of such a massive issue, but there is a part that we can all play in this struggle. Businesses can also invest in solar energy, view the Energy Renovation Center's website for the complete details. Here are a few tips to help you get started.
Commit To Recycling Everywhere
Let's start with one of the easiest steps. We have all grown up hearing about the importance of recycling our trash, but it's not enough to just do it at home. We must make sure that we are recycling as much waste material as possible at work too. Talk to your employees about which materials they should be recycling and make sure that break areas are equipped with Commercial Roll Off Containers. If your business has a significant amount of metal waste, you can start implementing a metal recycling program. A scrap metal recycling program can conserve natural resources as well as prevent pollution by reducing the need to collect new raw materials.
You could try removing wastepaper baskets from under desks to minimize the amount of recyclable material being put in the wrong receptacle. If you manage a restaurant with a grease trap, make sure that you're on top of the grease trap maintenance that it needs and that the grease is collected and recycled.
However, one of the biggest culprits right now is electronic waste. There is a huge amount of electrical material that is thrown into the trash every year. Make sure that you dispose of it responsibly or look for charities or institutions in the area that could use electrical equipment that you no longer need.
Look For Greener Machinery
One of the easiest ways to make sure that you are using energy efficient equipment is to swap out your old items. Newer machines are built to more recent energy codes, so although you will be spending money, you will be helping to protect the environment. We would remind you to dispose of the old machines responsibly!
Another area to consider is packaging. We are all trying to cut down on the amount of waste packaging we create, but it's not all about making sure that we don't use polystyrene. A lot of the traditional methods of packaging goods rely on large amounts of non-recycled materials or energy-inefficient techniques. Paper or plastic banding cuts out a lot of unnecessary waste both in terms of materials and energy usage and investing in a banding machine could have a real impact on your business. Felins' machines are fully customizable, and they will last for decades if looked after properly.
Get Your Employees Involved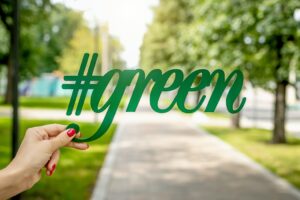 One of the best ways that you can use your business to help with environmental issues is by incentivizing your employees to take part. Introduce initiatives in the workplace and set challenges that come with rewards. Look for charities or organizations in your area that are working on green projects and think about volunteering some of your company's time to help.
Ask your employees to go away and think about ideas that will help reduce your carbon footprint, from offering bonuses to anyone who walks, bikes or uses public transport to get to work, or offering free reusable water containers to cut down on plastic bottle usage.