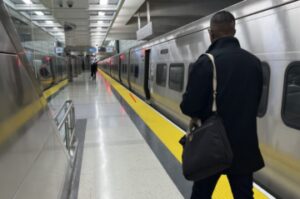 Take the Train to the Plane!  Area residents of a certain vintage may remember the MTA jingle which ran on local TV stations in the late 1970s and early 1980s. The MTA Museum has commemorated the campaign on its YouTube channel.   
The tune was an earworm for many, but the express JFK Airport subway service did not catch on and, for most Rivertown residents, taking the train to JFK was never a realistic option. Prior to this year, doing so would have involved taking a Metro-North train to Grand Central Terminal, and then a series of subway transfers to reach the Port Authority's AirTrain terminal at Jamaica, Queens. A less-frequent, and more expensive, Amtrak train from Croton-Harmon or Yonkers to Penn Station, connecting to a Long Island Rail Road (LIRR) train to Jamaica, would be another possibility. 
But 2023 has brought an important change. In January, LIRR began running some of its daily trains to its new Grand Central Madison platforms deep below the Metro-North tracks at Grand Central Terminal. The new service means Metro-North riders can now access LIRR trains serving Jamaica, Queens by transferring at Grand Central. At Jamaica, riders can transfer to the Port Authority's AirTrain, which delivers them directly to the terminals at JFK.  
*** 
The all-in time for such a trip comes in at just about two hours, including about 15 minutes of wait time and 10 minutes of walking, and allowing for some time to purchase a MetroCard to ride the AirTrain at Jamaica. The transfers can all be accomplished with a roller suitcase via escalators or elevators. The total peak hour cost of a trip would be less than $30. 
As an example, a traveler leaving Tarrytown station on a Monday morning at 9:13 a.m. could expect to arrive at Grand Central Terminal at around 10 am, leaving ample time for the roughly 10-minute descent to a 10:23 am LIRR train. The LIRR train reaches Jamaica in 21 minutes, and from there it is an easy elevator ride up to the AirTrain, and then a quick 15-minute monorail ride to the terminal. One could expect to arrive at Terminal 5 check in by 11:15 am. 
To be sure, a door-to-door trip to JFK could be accomplished by car from the River Towns more quickly, barring extremely bad traffic conditions. On a recent Monday morning, the Uber app was showing it would take about an hour to reach JFK from Tarrytown. But the cost would also be much higher, about $80 by Uber. 
Airport connectivity has never featured on the list of selling points for East Side Access, as the LIRR's new Grand Central Madison service is formally known. It is not listed at all on the Project Benefits section of the MTA's web page for the project. Most news articles about the new service have focused on either the benefits for Long Island riders or on their complaints about schedule changes as the railroad has reset train times to accommodate the new terminal.  
But visits to Grand Central this year have found plenty of riders hauling their roller suitcases, heading to and from JFK.  Among the Grand Central Madison travelers, there are already a few who are taking advantage of the LIRR/Metro-North connection.  
***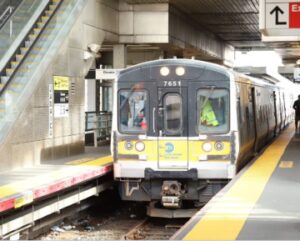 On a recent March Friday, Reid Kendall and Jason Seiler were on a Grand Central Madison-bound train from Queens, returning from the Dominican Republic and on their way home to Copake, in Columbia County (N.Y.). They were planning to transfer to Metro-North at Grand Central and ride the Harlem Line up to Wassaic. "It was pretty easy. We did the math," said Kendall, and train fare for two came out cheaper than a car. 
J.R., who did not want to give his full name, was on his way home to Putnam County from JFK on an earlier Wednesday. "It's easier than having somebody try to drive down here, pick me up, fight the traffic, fight the tolls, and then have to fight it back again, especially this early in the morning." He estimated the trip will take him about three hours all in, which he considers "pretty good." 
These riders were travelling farther than the River Towns, and the economics of train versus car were more compelling—an Uber to Wassaic from JFK could run over $300, for example. But even a $50 savings could be appealing to some River Town travelers, particularly students and those traveling alone, and thus unable to split the Uber fare. Of course, for regular Metro-North commuters with monthly passes, the savings would be even greater. 
In connecting the LIRR to Grand Central, the MTA has taken a small step towards helping to link two rail systems which evolved independently.  Grand Central and the rail network serving New York's northern suburbs, which later became Metro-North, were developed by New York Central Railroad. But the LIRR was owned by the Central's archrival, Pennsylvania Railroad, which developed Penn Station and the tunnels connecting to it. 
*** 
The two competing railroads had little commercial incentive to link up. They would later merge in the 1960s into the Penn Central Railroad, and the New York commuter operations of both would be taken over by the MTA. Amtrak Empire Service trains began running to Penn Station in the 1990s, but it has taken about 50 years to bring the two commuter networks into a common Manhattan terminal. 
Tiffany-Ann Taylor, Vice President of Transportation for the Regional Plan Association, a 100-year-old non-profit group that aims to support economic activity and quality of life in the New York City area, sees the LIRR-Grand Central connection as an important step to improving regional connectivity.  
"Given the history of our region and the history of ownership of public transportation and how things change hands, our network isn't as connected as it is in what I would call sister cities, like London and elsewhere. Unfortunately, we pay for that. Whether it's the challenge to make a direct connection, whether it's having to pay a different fare or using a different fare system or the frequency or what have you. And so, continuing to stitch the network together makes a lot of sense." 
 "If you build it, they will come," goes the movie adage, and it could be just a matter of time before we start to see tell-tale airport-bound roller suitcases on platforms in our towns, even without a catchy new jingle. 
Daniel Katzive is a Westchester native enrolled in the Master's program at City University of New York's Graduate School of Journalism.