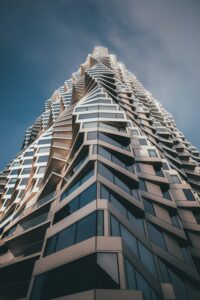 We all know that the only thing that should influence someone's opinion of your business is how well you deliver a product or service. Unfortunately, humans tend to be influenced by various things, including aesthetics. This means that your customers and clients will already form an opinion of your business before even entering it.
The moment they see your business's exterior, they will start to have an impression of your business. That's why it's so important to put in the effort and make your business's exterior look good. Not sure how? Keep reading to learn more.
Make it welcoming
Let's face it, most office buildings look cold and uninviting. And while it's easy to create a comforting and cozy interior – simply add some comfortable chairs and warm lights – the exterior is a different story.
One way of making your business look more inviting from the outside is to add a personal touch to what is otherwise just a boring bring building. An easy way of doing this is to place a planter or two outside the door. Have a look at PureModern for some ideas.
Give it a fresh coat of paint
If you want your business to stand out, why not paint the exterior in your business's colors? This way, it won't look as dull as a normal office building.
Of course, there are many things to consider when it comes to commercial painting. For example, if you don't own the building and you are only renting it, you might not be allowed to paint it. Similarly, if it has a brick exterior, painting it may not be the best idea.
If, however, you do decide to paint it, you need to use paint that is made for the exterior of a building so that it lasts longer. You can click here for some tips on selecting the best outdoor paint.
Add signs to the exterior
Adding homemade wood signs to the outside of your workspace has so many benefits. First of all, it will, once again, make your business stand out. Instead of having a drab wall, you can spice the exterior up by adding some color and patterns via Custom wholesale yard signs.
Secondly, it will inform customers exactly where you are, so that they don't need to spend forever looking for the right building. And finally, it acts as a marketing tool, because people who walk or drive by the building will notice your business. Of course, you should also make use of other marketing ideas.
Keep it tidy
While your business is technically only confined to the building that it's in, that's not how many people see it. If the communal gardens or parking areas are untidy and neglected, it will affect how people view your business, even if it's not really your responsibility.
But if you want to make a good impression, you may need to put in the work to ensure that these areas are clean. If you have gardens in front of your business, be sure to keep them tidy by following these gardening tips for small spaces.