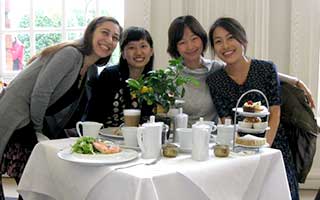 "I quite like scones."
Yulhee has her nose in a menu, and her eyes are shining with anticipation. We are sitting in a restaurant in Kensington Gardens, ordering afternoon tea with two other classmates.
The four of us have braved the London rain, huddled together under a flowery umbrella, to experience this well-known English tradition. We have even dressed up for the occasion.
"They're so buttery, continues Yulhee, and they taste so nice with jam!"
I shrug, resigned, and order a raisin scone. It's the only thing on the menu that my intolerance to lactose allows me to have, anyway. The conversation turns to coursework, dissertations, projects.
My friends don't know it, but I am at war with English scones. They make a joke of my stay in Tarrytown, you see. For the word "scone" is connected to a particular memory…
It's Saturday morning, and gentle sunlight shines through the high windows of Grand Central Station. Leaving behind the Hudson line, I cross the Main Concourse in the direction of the Vanderbuilt Avenue exit. There, in the Shuttle Passage, is the Hot and Crusty bakery that's my first stop in the City. I buy two scones, one chocolate chip and one blueberry – some things should always come in pairs – and saunter to the street with my rotund little paper bag warming up my hand. I take my first bite outside, amidst the swarming crowd and the sounds of traffic. The heart is soft. The chocolate melts.
My idea of happiness comes with a cake that's soft on the inside and crusty on the outside. Preferably with chocolate chips. But I can't reach my personal nirvana with English scones.
They are such a travesty, you wouldn't believe. They are half the size of my beloved Hot and Crusty. Apparently, you are expected to fill up on clotted cream and jam, provided on the side. There is not softness to them, just a density that causes you to find crumbs in your teeth for hours afterwards. No chocolate chips, not even the trace of a blueberry.
How am I supposed to conjure up images of the New York streets, of Grand Central Station, with THAT? The only memory they evoke is that of a hard bagel bouncing off a pillar during a humorous class presentation.
At first, I refuse to believe it. England wouldn't make such false promises, I tell myself. There must be some real scones out there somewhere.
And thus begins the scone hunt. I try them all – plain, currants, cinnamon. I drink gallons of Earl Grey, as the Brits seem to find it necessary to have afternoon tea with their scones. I walk into every bakery I come across. I give myself stomach aches.
English scones remain small and hard.
Well, if that's how it's going to be, England, I'm boycotting your scones! Mocking my American memories like that…consider yourself lucky I'm not marching on Downing Street!
But today, chatting and having tea with my friends, I decide not to let my little vendetta spoil the occasion. As I spread jam onto my scone, I am determined to find its redeeming qualities.
Hey, Yulhee has a point. It is very buttery, a lot more buttery than a Hot and Crusty scone. True, it is also denser, but that makes it quite filling. The jam complements the taste of butter, and adds moisture.
English scones have a shortbread quality, that's it, whereas American scones have more of a muffin quality. It's a completely different experience, really.
Wait. I think I just realized something.
Raisin scones with jam have become my cake of choice in England. I would still give away everything I own for a warm Hot and Crusty, but I can enjoy a nice buttery English scone anyway. And everytime I do, I see four girls in pretty dresses, talking about the future in a restaurant in Kensington Gardens.