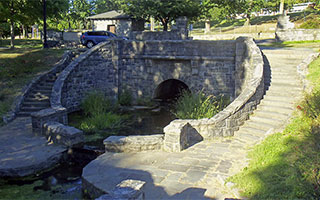 School will soon be out for summer and it will be time to broaden our focus from classroom pursuits to the surrounding communities. The warmer weather allows for many outdoor activities, educational opportunities, recreation, community events and ongoing projects that keep our towns in good shape.
At right, Patriot's Park, Tarrytown
In Irvington, The Board of Trustees has established five priorities for the fiscal year, which began on June 1st. Those priorities address quality living for residents, solutions for affordable housing options, economic vitality for downtown areas and of course, maintaining the solid financial footing that makes Irvington a more sustainable community.
In addition to these priorities, there are two important projects underway in Irvington. First, River Road will be reconstructed this summer. That's the road that leads to Scenic Hudson Park.  It is a joint project with Bridge Street Properties and it involves removing old railroad rails and ties, installing proper drainage, re-paving and improving the pedestrian markings along the road. Second, bidding has begun on the Safe Routes to School project.  This is a joint venture between the Town of Irvington and the Irvington School District that involves a Federal grant received back in 2008.  Sidewalks will be installed or replaced in and around the Village's schools to encourage more kids to walk or ride their bikes to school.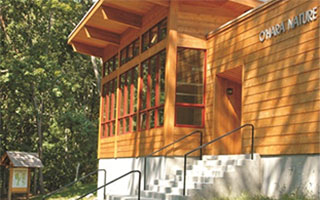 One of the joys of summer is spending time outside. The northern entrance of Irvington Woods is the location of The O'Hara Nature Center on Mountain Road. The center opened to the public in September of 2012 and promotes enjoyment and exploration of the woods in a nearby setting. Continued expansion and gardens are planned for this woodland ecosystem, which is totally funded by grants, donations and volunteers. The 400-acre
nature preserve is one of the largest forested areas in Southern Westchester. Visitors and volunteers are welcome to experience and support this environmentally important destination.
The Irvington Farmer's Market began their 2013 season on Wednesday, June 5th. Meet friends and neighbors for fresh local produce at the market every Wednesday from 3:30-7:30 pm at the Main Street School parking lot. For more information visit irvingtonfarmersmarket.net.
Irvington Parks and Recreation Department is sponsoring The 2013 Summer Dance Program for kids, teens and adults. Beginning in June, Modern Lyrical, Hip Hop, Break Dancing and Tap Dancing lessons for kids and teens will be held on Fridays between 3:30-5:30 pm. For adults, Swing lessons will be on Tuesdays at 7:30 pm and Salsa lessons on Fridays at 7:30 pm. All classes will be held at the Rec Center on 71 Main Street. For information and to register, email mdepaoli@irvingtonny.gov or call 591-7736.
The major infrastructure project in the Tarrytown/Sleepy Hollow area concerns pre-construction activities on The New NY Bridge Project. In progress are test-boring operations in the Hudson River and construction of the temporary Westchester trestle. The trestle is a work platform that will support a crane for the construction of the new bridge. The 1,000-foot long platform reduces the amount of dredging required and allows crews to work from the water and not from the Westchester shoreline. Work on the Westchester trestle will include daytime pile driving to install the temporary foundation piles needed to support the platform. Pile driving is limited to the hours between 7 am and 7 pm, Monday through Friday. The pounding noise from pile driving is heard from many neighborhoods in close proximity to the bridge site. Environmental monitors are installed on both sides of the Hudson to continually record noise, vibration and air quality for the duration of the project. These monitors will help the project team identify existing noise levels. Tappan Zee Constructors will respond and correct construction activities that exceed allowable levels. Concerns about excessive noise can be reported through the newNYbridge.com website or with a phone call to the hotline: 1-855-TZBRIDGE.
In contrast to the steady drone of Tappan Zee Bridge pile driving, the free Outdoor Park Concert Series starts Thursday, June 27th and continues July 11th, 18th, 25th, August 1st & 8th, between 7:00 – 9:00 pm. Held at Patriot's Park, (originally referred to as Brookside Park) on North Broadway (U.S. Route 9). The four-acre park features a pleasant walkway and several monuments. In 1982 it was added to the National Register of Historic Places.
Also held at Tarrytown's Patriot's Park  "Shakespeare in the Park" will take place there every third Friday each month from June through August. An additional outdoor play is scheduled for Patriot's Park and unofficially will be held there the last weekend in July–Thursday-Sunday, 7/25 – 7/28.
On Saturdays between 8:30 am through 1:00 pm rain or shine, Patriot's Park is also the place for Tarrytown's Farmers Market, founded in 2000. There you will find fresh Hudson Valley produce, meat, bread, cut flowers, dairy products, preserves and wine. There is often live music and demonstrations on traditional crafts.
Lyndhurst, one of 29 National Historic Trust sites, is open for guided mansion tours every Monday in summer from 12 pm – 5:00 pm. Music lovers can gather together to enjoy Sunset Jazz concerts held Thursdays through
August. The mansion is located at 635 South Broadway in Tarrytown. The free concerts begin at 6:00 pm with the gates opening at 5:00 pm. Parking is ten dollars per car. Bring your family and friends, a blanket and/or low-profile lawn chairs to relax in. The concerts, presented by Lyndhurst and Jazz Forum Arts, are held on the west lawn of the grounds overlooking the Hudson River.
Visit their websites for more information. www.lyndhurst.org or www.jazzforumarts.org.
"Park to Park Days" are back in Sleepy Hollow starting Saturday, June 1st through Labor Day. Enjoy a nice long walk with beautiful views along the Hudson River, from Kingsland Point Park at 299 Palmer Avenue to Horans's Landing at 9 River Street.
The Sleepy Hollow Sport Camp schedule is underway with a variety of offerings for children aged 6-12. Baseball Camp will be held at Devries Field between June 24th and June 28th. For Football skills and agility training, consider attending camp at Kingsland Park July 1st – 5th. (No July 4th) If Lacrosse is your sport of choice, fine tune skills with a camp session held at Kingsland Park on July 8th -12th. Fees for each these camps are $75 for the 9:00 am -12 noon session and $100 for an extended time of 9:00 am to 2:00 pm.
Briarcliff's Library and Community Center kicks off this summer with their 10th annual School's Out for Summer Party. The event is for all ages and will be held on Friday, June 21st between 3:30 and 5:30 pm on the lawn
between Law Park Pavilion and the Library. There will be a live DJ, games, food and fun for all. Teen and adult volunteers are sought to help out with this event.  Contact Amy Kaplan at 941-7072 or abgkaplan2gmail.com if you are interested.
With summer comes the opportunity to swim and The Briarcliff Manor Village Pool at 1031 Pleasantville Road opened for the season on Sunday, May 26th.  The operating schedule varies due to swim meets and time of year. Briarcliff residents can apply for required pool permits from the Briarcliff Recreation Department at 3 Library Road.  For more pool information and swimming programs contact John Osterhoudt and Rhonda Jeffay, Pool Directors at 914-488-2115.
Briarcliff has a comprehensive summer program. The details for pool and tennis permits and many other programs can be found and downloaded.  The 2013 Spring and Summer Recreation Opportunities Guide is located in the forms and information section on the recreation department page at http://www.briarcliffmanor.org.
Whether its sports, art, nature or government, now that summer has arrived, plan to have the best one ever for you and your family. Volunteer, learn something new, visit a place you've never been before, shop local, buy fresh–it's all out there, just look around and enjoy it while it lasts!