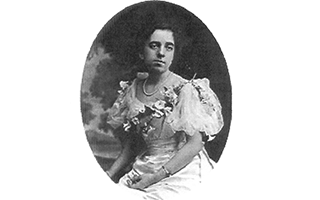 Jay Gould was a leading railroad developer and speculator of the 19th century.  By 1880 he controlled 10,000 miles of railways in the United States.  His business methods were often considered ruthless, and he was accused of stock manipulation. In 1869, Gould and his friend, Jim Fisk, tried to corner the gold market in the United States. 
At right, Anna Gould
This speculation culminated in "Black Friday" of 1869 when the price of gold plummeted.  He was the owner of Western Union for many years, as well as the elevated trains in New York City.  He was, and is often portrayed as the archetypal robber baron of the "Gilded Age."  Desiring a country retreat from New York City, Gould bought the Lyndhurst estate in Tarrytown in 1880.
Lyndhurst was designed by prominent architect Alexander Jackson Davis in 1838, for William Paulding, a former mayor of New York City.   In 1864, the house was bought by William Merritt, a New York merchant who enlarged it.  Lyndhurst was Gould's country retreat for twelve years.  Upon his death from tuberculosis in 1892, the estate was bought by his eldest daughter, Helen Miller Gould.  Helen disbursed a large part of her father's inheritance to many charities. After the Spanish American War she contributed a fortune to the American Red Cross to help care for the wounded. It was said that for many years, she spent more money on charitable work than any other woman in the United States (possibly trying to lessen her father's reputation for ruthlessness).  She was, however, also a shrewd business woman and investor.  By 1927 she had tripled the $10,000,000 that she had inherited.
Much has been written about Helen, who married Mr. Finley Shepard, continuing her many charities.  However, I would like to tell you about her younger sister, Anna Gould.
Anna Gould was not considered very beautiful.  In fact she was considered to be quite plain.   However, she did have a fortune, and was sought after by a group of European nobles for her money.  Some considered her a "dollar princess," a woman who had money and could afford to buy a noble European title.  The author Edith Wharton satirized women who did this at the turn of the century in her novels, calling them, "buccaneers."  Anna Gould married Le Comte de Castellane, who was from extremely old French aristocracy.  They were married in Manhattan in 1895.
Newspapers across the country wrote about the marriage.  One paper stated, "It will cost her $160,000 to wed the important French Count."   Anna had 15 million dollars to bring to the marriage.  In fact she had an income of $600,000 a year, $50,000 a month, $2,000 a day.  On her wedding day, "a veil fell from a $40,000 coronet consisting of emeralds and diamonds.  Catching the lace on her bodice were two hundred and fifty large diamonds and two immense emeralds, the latter costing $14,000 each."  Will Clemens, a reporter for the New York Times, wrote, "Ah yes, the whole thing may be a sweet little international love story, but somehow it is hard to think so, and the pageant today and all the other features of the affair make it look a simple case of cash for a coronet."
Shortly after marrying Anna, and bolstered by her immense fortune, Le Comte proceeded to live a grand lifestyle, spending millions of dollars. It was said that he greatly admired the court of eighteenth century Versailles, and tried to live the lifestyle of that bygone era. After buying a square block on the Avenue du Bois in Paris, he proceeded to build the grand  "Palais Rose," a majestic mansion of Italian pink marble. The mansion was fitted with a staircase that was as grand as an opera house.  There was also an immense ballroom and a theatre with five hundred seats.  He also maintained two chateaux in the country, and a villa at Deauville.  He sailed a 1600-ton yacht with a crew of 90.    Le Comte spent money lavishly, spending millions of dollars buying priceless works of art and antiques to furnish their homes.  He gave grand parties for thousands of guests, where he served only the best food and wine.
Finally, in 1906, having been married for eleven years, knowing that the Comte had engaged in many affairs, and had spent $11 million of her inheritance, Anna finally had tolerated enough.  Anna's family also publicly denounced the Comte. His spending came to an abrupt end in 1906 when he returned home to find that Anna had turned the electricity off. She cut off his funds, threw him out of the house, and sent his clothes to his parents.  Anna obtained a civil divorce on grounds of the Le Comte's flagrant infidelity.
Two years later she married the Comte's cousin, the Duke de Talleyrand-Perigord. The Duke de Talleyrand, unlike his cousin, had money of his own, and he and Anna were married for twenty nine years.  They had two children, Howard, (1909-1929) and Helene Violette, (1915-2003).  Tragedy struck the family in 1929 when Howard shot himself after his parents refused to let him marry.  They released  a statement to the press stating that, "The Duke and Duchess de Talleyrand regret keenly to announce the critical illness of their son, Howard… He shot himself because we refused him permission to marry until he was 21."
On March 26, 1945, Time magazine stated that, "The Duchess de Talleyrand, 70, chic, spry daughter of the late financier Jay Gould, and a longtime  resident of prewar France, announced that she would auction off her famed collection of orchid plants, more than 5,000 valued at about $75,000, for the benefit of The Red Cross."
Upon the death of her husband in 1937, and the death of her sister Helen in 1938, Anna returned to the United States, and resided at the Plaza Hotel in New York City, and her childhood home of Lyndhurst in Tarrytown.
As a young boy in Tarrytown, I consistently heard the rumor that The Duchess expected the dining room table to be set every night, in case she decided to return home from the city.
Anna Gould died on November 30, 1961 at the age of 86.  The New York Times obituary said, "The Duchess de Talleyrand-Perigord, youngest daughter of railroad financier, died today in Paris (November 29, 1961), where she had lived most of her life.  She was 86. She had been married to the Duke de Tallyrand-Perigord.  He died in 1937.  She was given the Legion of Honor in 1934, for founding a hospital for returning soldiers that had been wounded in WWI.  Her elder sister had similarly supported hospitals for American troops returning from the Spanish American War."
Anna's great gift was that she left Lyndhurst, all of its land, and an endowment fund for maintenance to the National Trust for Historic Preservation.  She stipulated that the house be a memorial to her parents and that the furnishings be left intact.  This was sadly contested by heirs, but it was finally agreed that the National Trust would receive Lyndhurst, and 67 acres, with the endowment fund going to the heirs.  The mansion has approximately 20 rooms and is a true lasting reminder of the Gilded Age.  The grounds are magnificent and have a beautiful view of the Hudson River.  Lyndhurst is considered to be the finest example of Gothic Architecture in the United States.
I am very proud to say that I worked at Lyndhurst for  two summers, as a young college student studying American History, just after the Duchess had willed Lyndhurst to The National Trust for Historic Preservation, and before it was opened to the public.  It was my job to catalogue the many, many books found all over the estate.  I was also very proud to know two butlers, and the gatekeeper and his wife who still lived on the estate.
You may visit Lyndhurst at 635 South Broadway, Tarrytown, New York 10591, 914-631-4481.  For more information online go to Lyndhurst.org.
[blockquote class=blue]Richard Miller is the Tarrytown Village Historian[/blockquote]