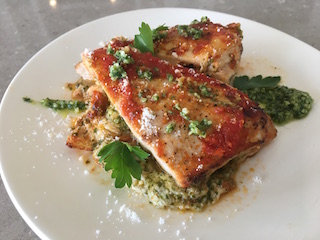 I get it . . . you're busy, you're tired, the kids are driving you nuts and there is laundry to fold. I'm sure the last thing you want to do now after working all day is put on your chef hat and make a gourmet meal. Before you go dialing the local pizza place to order a few pies give this recipe a try. This riff on the classic Margherita pizza will bring a gourmet flair to your next "in a pinch" dinner.  This dish is a quick and easy entrée that will have all your dinner guests begging for seconds. Bon appétit!
Margherita Chicken Breast
Prep Time: 15 minutes
Cook Time: 20 minutes
Yield: 6 Servings
Ingredients:
Pesto
2/3 cup Extra Virgin Olive Oil
2 cups Basil leaves
1 cup Parsley leaves
2 cloves Garlic
1/2 cup Grated Parmigiano-Reggiano Cheese
1/4 cup Pine Nuts
Salt and Black pepper to taste
Chicken Breast
4 tablespoons Olive Oil
6 Boneless-Skinless Chicken breasts
2 tablespoons Sea Salt
1 tablespoon Black Pepper
8 ounces Fresh Mozzarella Cheese
1/4 cup Parmigiano-Reggiano Cheese
4 cups San Marzano Marinara Sauce or your favorite sauce of choice
10-20 Basil leaves
Parsley Leaves for Garnish
Method of Preparation:
1. For the pesto add all of the ingredients in a food processor and blend until incorporated. Reserve half the pesto for the chicken and half for garnish.
2. Pre-heat oven to 375 F. Take the chicken breasts and butterfly them, so that each one can be "stuffed". Season both the inside and outside of the butterflied chicken breasts. On one side of the breast spread some pesto to coat and on the other side spread some marinara sauce. Sprinkle both sides with Parmigiano cheese. Place a few slices of thinly sliced fresh mozzarella on one side as well as a few basil leaves. Close the chicken back up and stick three toothpicks into it (one on each end and one in the middle).
3. Take a large sauté pan and heat it over high flame. Add half the olive oil and allow the oil to get hot. Once the oil is hot, place half of the chicken breast in the pan. (We are doing this in two batches so as to not overcrowd the pan.) Flip the breast over after 1 minute and sear the other side for another minute. Remove the breasts and place them on a metal sheet pan lined with aluminum foil. Repeat this process with the remaining breasts. Top each breast with more marinara sauce and another sprinkle of Parmigiano cheese. Place the chicken breasts in the oven for approximately 20 minutes or until the chicken has reached an internal temperature of 165 F.
4. To serve, slice each breast in half diagonally. Spoon some extra pesto on the plate and place the sliced chicken breast on top and garnish it with parsley leaves and grated Parmigiano-Reggiano cheese.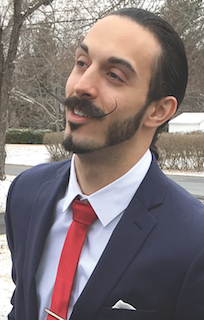 Lucio C. Battista is a graduate of Johnson and Wales University with a Bachelor's in Culinary Nutrition and a Master of Arts in Teaching. He can be found cooking in kitchens all over Westchester County as a personal chef and can be reached at lbattista9823@optimum.net.