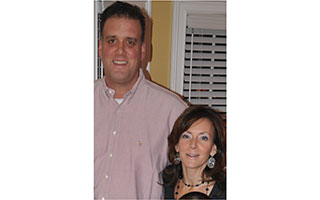 When Alan and Patti Straub decided to open Spincredible in Ardsley late last fall, they realized that indoor cycling not only offered an incredible physical workout and one that can easily be tailored to any individual's fitness goals, it also offered a wonderful adjunct to people's fitness programs. Indeed, people seeking healthier lifestyles today seek a variety of fitness opportunities that incorporate classes, weight lifting, cardiovascular exercises and on and on.
Indoor cycling fits into that regimen of variety for a number of reasons and Patti Straub took the time to talk about how "Spincredible" has attracted men and women of all ages, and youth as well.
At right, Alan & Patti Straub of Spincredible in Ardsley
Patti and her husband, Alan, live in Dobbs Ferry, and Spincredible is located in Ardsley very close to their home. After 4 children Patti decided to get back into shape and that included running and multiple trips to the gym where she was introduced to indoor cycling. "I decided that when I did return to work I wanted to do something flexible so I could spend time with my children," she said. She then went on to study and become a personal trainer which integrated fitness into her life and work. She also observed that many people who did indoor cycling only used their clubs for that particular exercise, and as a result the idea of "Spincredible" was born.
Her husband, who is the national sales manager for Madison Square Garden, also saw an opportunity with the rise of interest in indoor cycling, and with his business acumen realized the time was right to open their own business.
Spincredible, located at 692 Saw Mill River Road in Ardsley, has a wonderfully warm and inviting feeling to it. It is reminiscent of a SoHo building in New York City. The exposed beam work in the ceilings and a partial brick façade on the walls are inviting, and project a fitness boutique atmosphere which is exactly what Patti and Alan wanted. Too many of the gyms that they saw offering indoor cycling were white square spaces and unappealing. "Alan and I decided that Ardsley was a great location because there is nothing like what we offer in the Village. Personally, I love it as a workout. You really feel that you've done something after a class," she added.
At Spincredible 55-minute classes are the norm. They also offer a "power ride" which consists of 45 minutes on the bike and then resistance training off the bike to include stretching at the end of the class. "Each day's classes vary to better accommodate our clients. We have Monday, Wednesday and Friday early 5:45 am classes," she said. They also have 8:30, 8:45, 10, and 10:15 am classes depending on the day. There's a 12:30 class then 4:15, 5:30, 6:30, 7 and 7:30 pm classes are offered on specific weekdays.
Moving into the weekends Saturday classes begin with an 8 and 9:15 am class. On Sundays at 10:30 am there is an introductory class for people who have not done indoor cycling before. "We are here to help people get fit and this introductory class is great for them. The exercise is easy on people's joints and it's great for all age groups," she noted. "I have never seen a beginner class like we offer at another gym around here," she said. "Our instructor Brunetta Cathers meets every new person personally on Sunday and sets them up on their bike. We suggest that new people take her class a few times before moving up to one of our weekday or Saturday classes."
This individual attention is part and parcel of indoor cycling, and along with Brunetta Cathers, Spincredible has a host of qualified instructors bringing a wide range of experience to their classes. As one client noted, " Spincredible is by far one of my favorite places to go. The staff and instructors are genuinely kind, very experienced and you will be comfortable riding regardless of your expertise. The ambiance is delightful – boutique-style with a dish of quarters at the front desk for the parking meters! It is an experience that will lift your spirits and keep you in shape! Don't miss out," said Esteretta Sharp.
In addition to a number of different classes daily, Spincredible also offers ride packages and specials for students. With colleges and high schools readying for summer recess, the timing for indoor cycling appears to be right now.  ©
For more information visit spincredibleny.com. Or Email info@spincredibleny.com.