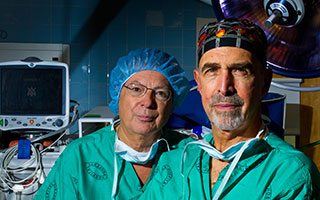 Phelps Memorial Hospital Center has established the Westchester Lung Nodule Center to screen individuals for early detection of cancer. The presence of nodules leads to a higher probability of developing lung cancer. Phelps physicians Avraham Merav, MD and Rocco Lafaro, MD are co-directors of the center, the only one of its kind in the Hudson Valley.
At right, Avraham Merav, MD (foreground) and Rocco Lafaro, MD, are co-directors of the Westchester Lung Nodule Center on the campus of Phelps Memorial Hospital Center in Sleepy Hollow, NY.
Lung cancer is the deadliest form of cancer for both men and women. Each year, more people in the U.S. die from lung cancer than from breast, colon and prostate cancer combined.
As with all cancers, early detection increases survival rates. It is well established that routine mammography and colonoscopy save many lives by discovering breast and colon cancer at an early, curable stage; why not screen for lung cancer too? Lung cancer starts with a small solitary nodule – a round or oval spot (lesion) in the lung. Screening for lung nodules can save lives, particularly in high-risk individuals such as non-symptomatic smokers with a smoking history of at least '30-pack years' (1 pack a day for 30 years or 2 packs a day for 15 years, for example) or those who have a family history of lung cancer.
Phelps Memorial Hospital Center has established the Westchester Lung Nodule Center for individuals who would like to be screened for lung nodules because they are at risk for developing lung cancer. Other individuals come to the Center for a second opinion after a lung nodule is discovered incidentally on a chest X-ray or CT scan. The mission of the Lung Nodule Center is to provide the best chance for curing lung cancer by early diagnosis and expeditious, state-of-the-art treatment. 
The Center offers patients access to a team of board-certified specialists in multiple disciplines and the latest technology and techniques for diagnosing and treating lung cancer. In addition to the thoracic surgeons, the physician panel includes pulmonologists, oncologists, infectious disease specialists, radiologists and pathologists.
The Lung Nodule Center is located on the campus of Phelps Memorial Hospital Center in Sleepy Hollow. Co-directors of the Center are Dr. Avraham Merav, chief of thoracic surgery and Cancer Liaison Physician at Phelps, and Dr. Rocco Lafaro, chief of general thoracic surgery at Westchester Medical Center. The American Board of Thoracic Surgery certifies both doctors.
Dr. Lafaro earned his medical degree at New York Medical College, where he was chief resident of general surgery and completed a fellowship in thoracic surgery at Albert Einstein College of Medicine. He is a member of the Phelps Memorial Hospital medical staff. His office is located at Westchester Medical Center in Valhalla.
Dr. Merav earned his medical degree at the University of Basel Medical School in Switzerland. He completed a rotating internship at Mount Sinai Medical Center, followed by a residency in general surgery and a fellowship in cardiothoracic surgery, both at Montefiore Hospital and Medical Center, where he was later chief of thoracic surgery. He also served as chief of thoracic surgery at Englewood Hospital in New Jersey for 12 years.
To contact the Lung Nodule Center, call at 914-366-2333.
Phelps Memorial Hospital Center, located at 701 North Broadway in Sleepy Hollow, is a 235-bed community hospital with 450-person medical staff, representing 50 clinical specialties. Phelps was the first Westchester satellite for Memorial Sloan-Kettering Cancer Center and is a member of the Stellaris Health Network. Visit the hospital online at www.phelpshospital.org