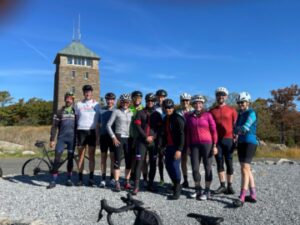 As summer spins onward, so do the cyclists you see returning to their favorite trails and parks in and around Rockland. Many of them are members of Rockland Bicycling Club (RBC), a group to meet other enthusiasts looking for a great ride through their home turf as well as Westchester, Orange, and North Bergen Counties.  
RBC was formed in 2002 to encourage people in the area to get out and bike together, according to Steve Crowell, the club's vice president and a frequent ride leader (who's also on the Rivertown Magazine staff). "It's really about going out and having fun with friends that we know and people that we have yet to make friends with," he said. 
No matter your level, there's a ride for everyone. Cynthia Turner, RBC's president and another ride leader, notes the proximity to both Harriman State Park and the Mario Cuomo Bridge bike path as excellent starting points. "If you feel like hills, you can go north and up into Harriman or into Bear Mountain and climb Perkins Peak," she said. "If you're not in the mood for hills, you can go south into Saddle River and take a nice leisurely ride down through Westwood and through New Jersey." 
There's an introductory member ride once a month to accommodate newbies. The club website goes into detail about each ride category, which is graded on a scale. It's up to you to determine where you best fit. Even then, some new riders opt to drop down a level initially until they get the feel for things.  
Another option if you're new to riding is to level up your equipment. "We're non-discriminatory – it's fine to ride an e-bike," Crowell said. "We have several members who do because they don't want the challenge of the hills." 
Throughout the year, members can participate in both club-sponsored events and those organized by others. Annual events sponsored by RBC include the spring season starter, dubbed the Primavera, and the Invitational, where people from other cycling clubs are invited to ride with members. The club also typically hosts a charity ride and a fall "Ride 'Round Rockland."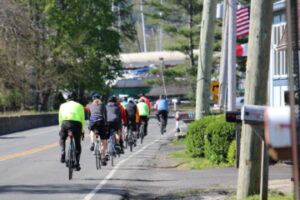 Members can participate in weekly rides, such as the Wednesday "Ride Then Imbibe," sponsored by Westwood Cycle. "It's centered around starting at various local breweries, and then ending up at a local brewery," Turner said.  
Ultimately, getting involved with the Rockland Bicycle Club is as simple as showing up.  
"Turn out for an event, even if it's for a meetup after the ride on a Sunday at David's Bagels," Crowell said. "Show up and have a cup of coffee and make a friend, because you'll find that Cynthia and myself and all the rest love to talk about cycling, about life in Rockland, and we want to show off everything we've got here." 
Ready to get pedaling? Here are some area rides that Steve Crowell particularly enjoys. He suggests routing them via the Ride With GPS app:  
Maxine Lipner is a longtime freelance writer from Nyack. She enjoys walking around town, reading a good book, listening to music, or spending time at the beach.