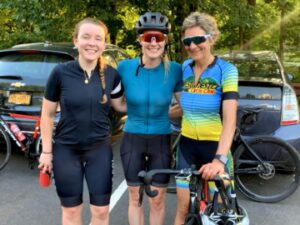 The Westchester Cycle Club is hosting the Velo de Femmes this spring to build community and share experiences among female cycling enthusiasts.  
The Saturday, May 6, event in Armonk is geared toward encouraging more women to participate in recreational cycling, an activity in which females are outnumbered 3-to-1 by males nationally, according to some estimates.  
"We want women to know that there's a connection out there for those who are interested in riding," said Christine Schopen, president of the WCC, whose 860 members are about one-third female.  
Rides of 10, 30 and 50 miles are free to join, and participants are encouraged to stick around afterward to socialize and enjoy a catered lunch of wraps, salads and beverages supplied by DeCiccio's for a $20 fee. Participants do not have to be Westchester Cycle Club members. 
Velo de Femmes, which roughly translates to a women's bike ride, offers a chance to make new friends and learn about cycling while touring some of the area's quiet, scenic roads. All rides will be "no-drop," meaning no one will be left behind, and groups may be split into faster/slower speeds to make sure everyone's riding at a comfortable pace. 
Riders must sign up in advance, be at least 18 years of age, wear a helmet and arrive with a bicycle in good working condition.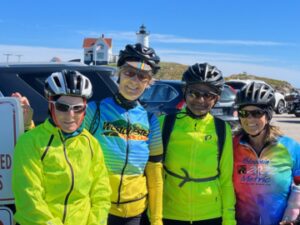 Riding in all-male groups can be intimidating for some women, said Dakota Adamec, a WCC board member.   
"It's a great feeling to go out and ride with other women because I usually don't have the opportunity to do so," Adamec said. "Riding with women evens out the playing field, rather than trying to compete with someone who is naturally bigger and stronger. Besides the ride itself, it's important to feel comfortable and socialize with other like-minded or like-skilled women." 
The Westchester Cycle Club is a not-for-profit group whose purpose is to educate the public about safety and the benefits of bicycle riding, promote awareness and enjoyment of cycling through organized events, tours, lectures and demonstrations, and to promote bicycle use as a non-polluting, non-congesting, quiet means of recreation and transportation. 
Women who ride together … 
What:

Velo de Femmes,

featuring bike rides of 10, 30 and 50 miles

When: Saturday, May 6, with rides starting between 8:30 and 10 a.m.

 

Where: Armonk Sports Center, North Castle Community Park, Armonk

 

Admission: Rides are free to join; $20 for catered lunch afterward.

 

Registration/Information: visit www.westchestercycleclub.org/Events/signUp/230