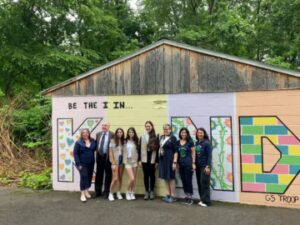 Girl Scout Troop 2154 unveiled a mural at the playground at the Muriel H. Morabito Community Center in Cortlandt Manor in June. The mural's message is "B the 'i' in K_ND," reflecting the theme of their 50-hour community service project "Kindness Matters." The project was supervised by Troop Leader Krista Birenkrant.  
Lakeland Copper Beech Middle School 8th graders Hailey Birenkrant, Clarissa Cortes and Emily Riggio completed the mural for their Girl Scout Silver Award – the highest honor for a Girl Scout Cadette.  
Representatives from the Town of Cortlandt attended the mural's reveal, including Town Supervisor Dr. Richard Becker; Ken Sherman, Recreation Director; Dawn Mahoney, Director of the Morabito Center; and Claudia Vahey of the Supervisor's office. Also present from West Lakeland Girl Scouts service unit were Maureen Connolly, Service Director, and Kelly Sorrentino, Service Manager, plus local Girl Scouts and their families.