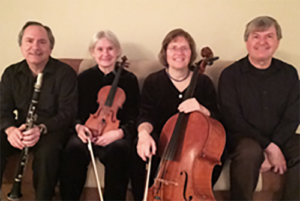 Union Church of Pocantico Hills will be presenting a classical music concert to benefit MusicWorks at 3 p.m. on Sunday, Dec. 3 in the Parish Hall. The concert will feature mezzo soprano Alison Tupay and the Wilderness String Quartet in a program that will include the world premiere of songs composed by William Eckfeld set to the poetry of Emily Dickinson, as well as additional repertoire from female composers and opera arias.
Tickets for the concert, which will be available at the door, are $25 for adults and $15 for students under 18 or with a valid school ID. Union Church of Pocantico Hills is located at 555 Bedford Road, Pocantico Hills, NY.
Founded 15 years ago in partnership with the Tarrytown public schools, MusicWorks is a community organization that provides one-to-one music lessons and cultural opportunities to talented musical students from Sleepy Hollow High School with economic need. As part of its community outreach program, Union Church of Pocantico Hills is aiding MusicWorks in several capacities.
Alison Tupay's operatic credits include Der Trommler (Der Kaiser von Atlantis), Sesto (La clemenza di Tito), Jocasta (Oedipus Rex), Rosina (Il barbiere di Siviglia), and Pitti-Sing (The Mikado). Her orchestral credits include Mahler's Symphonies Nos. 2 and 3, Verdi's Requiem, Mozart's Requiem, and Beethoven's Symphony No. 9. She is a graduate of Boston University and The Juilliard School.
The Wilderness Quartet—Rebecca Eckfeld, violin; William Eckfeld, piano; Steven Miller, clarinet; and Carole Tilson, cello—made its debut in July 2015 and have performed together over many years as members of the Norwood Trio (flute/clarinet, violin/viola, cello), founded in 1990, and as members of the Trio d'été (piano, violin, cello), founded in 2013.
William Eckfeld was the orchestra director at White Plains High School from 1987-2013. A graduate of Eastman School of Music, he was a member of the Rochester Philharmonic Orchestra and Dallas Symphony Orchestra before beginning his career in music education. William also studied at the Hochschule für Musik und darstellende Kunst in Graz, Austria, and earned his Masters degree from Lehman College in New York, where he studied composition with John Corigliano. As a composer, Eckfeld has written numerous works for chamber groups, soloists and orchestras.

For more information, call (914) 631-2069 or email office@unionchurch.org. For tickets scan the QR Code or visit http://events.constantcontact.com/register/event?llr=z8uf9babb&oeidk=a07ek1l6vgm98ae7ff4.