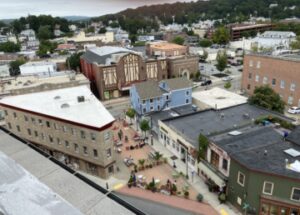 Robert Putnam's Bowling Alone, published in 1995, initiated a debate around the health of civic life in the United States. The debate has not recessed in the decades since, but one group has energized the conversation in Peekskill around pedestrian safety and creating a vibrant downtown.  
For all the innate characteristics of the city's geography, Conor Greene, co-founder of Peekskill Walks—the community group dedicated to making the city's streets safer and more accessible—believes there remains work to be done. 
For anyone who has spent time in this city, it doesn't take long to recognize its inherent walkability and classic town-square charm. Unlike some neighboring towns, a preponderance of Peekskill residents have the ability to walk rather than drive to local shops, restaurants, and amenities.  
For adults, that could be for a morning coffee or a happy hour beverage after work. For the city's youth, that can mean walking to school—practicing a lost art of independence and free play. Peekskill's recent Bike Bus initiative, in which children biked to school, was piloted by City Councilman Ramon Fernandez and could be a harbinger of future mobility and healthy living efforts. Although the old expression "Prepare the child for the road, not the road for the child" finds common ground in the case for walkability, there's a bit of irony in the literal interpretation.  
*** 
Earlier this year, the National Highway Traffic Safety Administration projected 42,915 motor vehicle deaths in 2021 in the U.S., an increase of 10.5% compared to 2020. Peekskill has had its share of this national tragedy in recent years.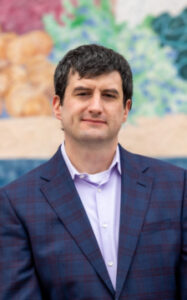 In October 2021, a car narrowly avoided going through a Peekskill home near the intersection of Washington Street and Requa Street—not far from where a pedestrian was struck by a car and killed in December 2019. In November 2021, a driver injured three people and caused damage to a new business after hitting a parked vehicle and ending up on the sidewalk in the popular downtown Restaurant Row on North Division Street. In 2022, there were a reported 23 vehicular accidents involving pedestrians in the city.  
Solutions to this problem, according to Greene, involve improvements in infrastructure by both the city and county governments. (Washington Street and North Division Street are county roads within city limits.) Police enforcement is needed, but the key to pedestrian safety is how streets are designed. Curb extensions are one improvement that would provide shorter distances for pedestrians to cross and greater visibility for drivers.  
Another need identified by Greene was more lighting on city streets and in heavily trafficked intersections—such as the underpass at Hudson Avenue and South Street with its long and dimly lit crossing near Metro-North's Peekskill station. Nonworking crosswalk signals have also been a chronic problem throughout the city. 
*** 
While issues continue to persist, there have been recent accomplishments. Greene credits a healthy relationship with the Peekskill Police Department, Department of Public Works, and Department of Planning. Speed bumps and a radar speed sign were installed on Hudson Avenue and on Wells Street, where the hill's decline is conducive to dangerous acceleration near the entrance to Depew Park, although they've since been removed for seasonal snow removal.  
Over the summer, several crosswalks were painted, including on Broad Street and Main Street. Greene notes that Peekskill Walks relies on residents working together, and credits others, such as Greg Gutkes, who highlights ADA-compliance issues around the city, and Cathy Martone, who has been a key contributor to Peekskill Walks. 
Another initiative championed by Peekskill Walks is the closure of Esther Street to vehicle traffic; known in the community as Esther Place, the closure will continue for at least another year.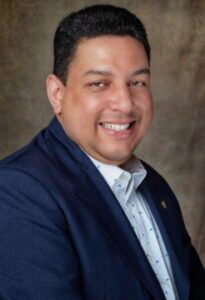 At its Dec.19, 2022 work session, the Common Council gave the go-ahead for a one-year extension of the temporary permit for Esther Street that was set to expire at year end. Since it was set up in November 2021, this space has provided for outdoor pedestrian use that soon became a hub of civic and social activity. The space has hosted a "Rock Night," "Walk-In Movie" nights, and a host of regional vendors have peddled products there. The benches and tables invite residents and visitors alike to enjoy the outdoor atmosphere and serve to reinforce a sense of vibrancy downtown. 
*** 
It appears the Common Council will look to use the time granted by the one-year extension to create a plan for the permanent closure of Esther Street. Mayor Vivian McKenzie expressed concern with snow removal being hindered, and Councilman Fernandez raised the issue of losing a loading area for local businesses. 
Another byproduct of the pandemic era that Peekskill Walks and other local voices want to continue is parklets, an extension of sidewalks that converts parking spaces into community spaces. Restaurants, such as Gleason's on South Street, used that space for serving patrons, and the practice gained favor. When the parklet program was set to expire, a group of citizens organized a petition campaign, and the Council decided to explore the extension of the program. Councilman Fernandez indicated an ordinance draft is in works that would sustain the parklets. 
Among other action items that Greene would like to see are greater transparency from the city when accidents occur, and a more robust review process for such incidents. He said he would like to see a greater percentage of the city's budget go toward transportation to focus more on walkability and less on motor-vehicle traffic.  
Councilman Fernandez sees the rise in pedestrians being struck in the last year as a concern that needs to be prioritized. The city has several citizen-led advisory commissions, and he believes there is a strong case to have one focus on pedestrian and bicycle safety. He also cautioned that drivers and pedestrians alike need to be more attentive and less distracted when driving or crossing the city's roads to ensure the safety of themselves and others. 
Dominic Evangelista is a resident of Peekskill.