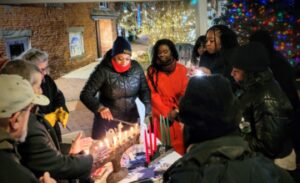 "Tonight," said Chuck Newman, "we light 16 candles together as one community." 
On Dec. 26, Peekskill's downtown gazebo was crowded with members of First Hebrew Congregation of Peekskill, Peekskill NAACP, Temple Israel of Croton-on-Hudson and others to observe the last (eighth) day of Hanukkah and the first of Kwanzaa's seven days.  
Celebrated nationwide as "Fifteen Days of Light" for the eight lights of the Menorah and the seven lights of the Kinara, the event unified two groups to dispel the darkness of racism and antisemitism in America. (The 16th candle is the so-called shamash on a menorah, used to light the other candles on each of the eight days of Hanukkah.) 
Chuck Newman (of Charles Newman Co. in Peekskill) put the event together in two weeks with Valerie Eaton, President of the Peekskill NAACP, and Pastor Perry of the Peekskill Area Pastors Association (PAPA).  
*** 
Despite the frigid temperatures, the gazebo was full of warmth as the crowd came together in song and in spirit to hear from Newman, Eaton, Pastor Perry, Rabbi Dana Bogatz (of First Hebrew Congregation), and Peekskill Deputy Mayor Patricia Riley. Also present were Peekskill Councilman Brian Fassett and Rabbi Jennifer Jaech of Temple Israel.   
Newman started the event by emphasizing the importance of "celebrating our respective traditions together in a community that promotes all traditions and shuns the voices which seek to divide us." He went on to share his own familial history of experienced bigotry, as his late mother-in-law Joan Landzberg (also of Peekskill) attended the Paul Robeson concert that infamously ended in the Peekskill Riots of 1949. 
Valerie Eaton shared that the Black community "had to create something to celebrate because we had nothing—we were stolen from our land, and we didn't have anything we could go back to." And so Kwanzaa was created, celebrating seven principles across seven days—the first of which is unity, a fitting and recurring theme for the Peekskill celebration. This was Valerie's last week as President of Peekskill's NAACP, and she passed the baton to Priscilla Augustin, the new President, to lead the congregation in song. 
*** 
Pastor Perry shared a commonality between all faiths and religious texts—how good it is when people live together in unity—and said it symbolizes how we live in this area. "We're lighting one final candle and starting another. Instead of passing the baton, let's think of this as a marathon," he said.  
In a marathon, the person behind you may stop running, "but they never stop encouraging." Pastor Perry asked that as we move from Hanukkah to Kwanzaa and beyond, we continue to run beside each other and run together, encouraging each other all the while.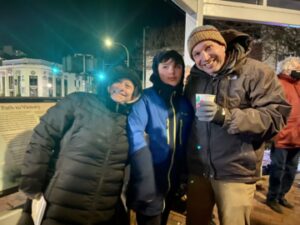 Among the crowd was a family of three from Cortlandt: Beth Weiss-Dunn, Joshua Dunn, and their son Andre belong to First Hebrew Congregation. To them, the event centered on unity had its own meaning. "Andre has autism. Connecting him to the community can be really challenging, so this kind of event is really important to us," shared Beth. "This is about teaching acceptance, not just tolerance. There really is a difference." Andre works with Rabbi Dana Bogatz as he prepares for his bar mitzvah, and he shared a new milestone with me as he extended his hand in introduction. 
*** 
As the candles were lit, Rabbi Dana shared that a candle is like a spark of God inside of us. Just like the candles of the Menorah and the Kinara don't go out when we leave, the sparks inside our souls also remain burning. As patrons of this event, Rabbi Dana believes our sparks are now connected. If we meet again, we will still have that connection; "that light will still be shining."  
Valerie Eaton concluded with a nod to Kwanzaa's first day of unity, and the crowd shared a Hebrew song about brothers coming together in unity. "We strive for and maintain unity in the family and community," said Eaton. "Thank you for being the community that makes it a family." 
Stephanie Conte is a resident of Peekskill.