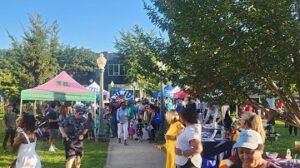 On a Tuesday night roaming around Peekskill, the classic summer smell of roasting hot dogs and a steady beat echoing from the speakers of DJ Esco's turntables led the way to Pugsley Park. Under the balloon arch and among dozens of vendors, sponsors, community members and city representatives was the main event: National Night Out (NNO). 
Celebrated annually on the first Tuesday each August, NNO is a community-building event aimed at promoting and strengthening the relationship between neighbors and law enforcement. Officially introduced in 1984 in a suburb of Philadelphia, the event has grown from porch visits to all-out block parties and parades across the nation.  
"[NNO] is an opportunity to meet our police and our community," said Tuesday McDonald, Executive Director of Peekskill Youth Bureau and organizer of the event. "We always have a great relationship with our police in Peekskill, so it's no different tonight." 
As the Peekskill Fire Department worked the grill, the Peekskill Police Department took to the crowds, meeting — and even dancing — with community members.  
Police Chief Leo Dylewski, appointed in 2021, opened the event with a welcoming message: "One of the best things about this is looking around and seeing all of our community come together for one night to get to know each other and have a wonderful time."   
Later in the evening, I asked Chief Dylewski how the PD can expect to continue this show of community all year long. As he was about to reply, he noticed a friend walking our way. "This is how," he said, as he hugged Monique Holman, who he knows from the Peekskill Senior Center.  
"You can depend on him," Holman said of the chief. "We have a great chief, a wonderful mayor and a real community here." 
"In Peekskill," Chief Dylewski continued, "we all came up together. This event just reinforces the community ideals we show every day." 
State Assemblywoman Dana Levenberg shared, "The more that we know each other, the safer we all will feel and the safer we all can be."  
When catching up with the Youth Bureau's McDonald after the event, she shared her hopes for what the event will inspire throughout the rest of the year. "I hope that [NNO] provided an opportunity for the Police, Youth Bureau and neighbors to come together, get to know each other and build stronger relationships. We organize this in hopes that the community takes away a sense of unity and the importance of working together to create a safe and vibrant community."  
With a lens aimed toward progress and unity, the future of Peekskill is looking bright. 
Stephanie Conte is a resident of Peekskill.