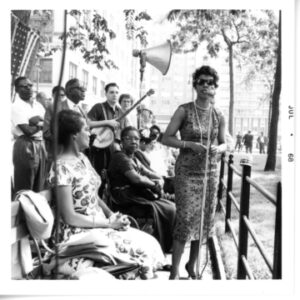 The Lorraine Hansberry Coalition, with generous support from the Village of Croton-on-Hudson, organized a two-week, four-event 60th anniversary commemoration of the Rally to Support the Southern Freedom Movement, which acclaimed playwright and activist Lorraine Hansberry (A Raisin in the Sun) chaired at Temple Israel of Northern Westchester in her hometown of Croton-on-Hudson.   
The multimedia series of events will connect participants to significant local civil rights history as they explore the importance of equality and voting rights in the 1960s and today. The kickoff event, on June 11, 2023, includes children's programming.  
More than 1,000 people flocked to Croton on June 16, 1963. They heard young Black Americans give accounts from the front lines of the civil rights movement. Nearly a dozen representatives of religious faiths joined two dozen others in sponsoring the event. Judy Collins, then new on the music scene, sang folk songs.   
The thousands of dollars raised supported boots-on-the-ground civil rights organizations. They also purchased the station wagon that Freedom Summer activists James Chaney, Andrew Goodman, and Michael Schwerner drove when they were captured and murdered for registering Black Americans to vote.  
The events are free, with registration required.