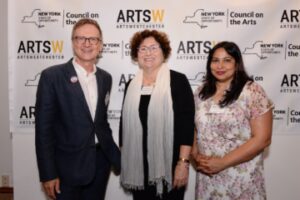 ArtsWestchester will award more than $550,000 in grants to 164 groups in Westchester and Rockland counties through a New York State Senate Arts Initiative.
The funding has been made available by State Senate Majority Leader Andrea Stewart-Cousins to enable ArtsWestchester to expand its support of cultural programs in community sites such as libraries, parks and schools.
New York Senate Majority Leader Andrea Stewart-Cousins explains, "It's important to note that across the nation, 72% of Americans believe 'the arts unify our communities regardless of age, race, and ethnicity' and 73% agree that art 'helps me understand other cultures better.'" She continues, "Our vibrant arts community adds so much value to Westchester; art brings joy and works to unite us all. I am proud that, under my leadership, the Senate has made unprecedented investments in the arts throughout the County and State."
ArtsWestchester CEO Janet T. Langsam says "This critical state funding which puts decision-making through ArtsWestchester at the local level allows us to reach into every corner of the community and deepen our commitment to accessibility and equity. Grantees include 65 first-time awards to area artists and arts groups."
"Now, more than ever, it is essential to recognize how the arts live in our communities and neighborhoods with measurable impact to our personal and economic health," says New York State Council on the Arts Executive Director Mara Manus.
Award recipients include a poetry workshop at The Loft in White Plains; an African dance community program led at the New Rochelle Public Library; and an environmentally themed photography exhibition at the Yonkers Riverfront Library.
The Statewide Community Regrants Program (known as ArtsWestchester's Arts Alive grant program) is a regrant program administered by the New York State Council on the Arts with the support of the Governor's Office and the New York State Legislature.