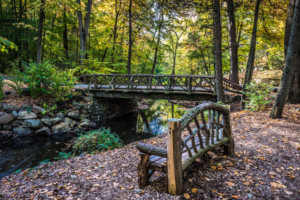 Finding the perfect locale for a first date can be daunting. The Rivertowns of Westchester County, a constellation of towns along the Hudson River, offers a mix of history, culture, and natural beauty, setting the stage for a date to remember. In this article, we sill explore five places that will help you make a fantastic first impression.
The Rivertowns: A Blend of Experiences
The Rivertowns offer a rich tapestry of experiences. A first date here can range from quiet reflection on the banks of the Hudson to lively discussions in a bustling downtown eatery. If you've met your date on a brides dating site like Ladadate.com, these towns are the perfect destinations for a romantic real-life meeting. Each town presents its own unique charm, catering to different interests and creating a well-rounded day.
1. Tarrytown: A Storybook Setting
Begin your adventure in the historic village of Tarrytown. This charming locale is brimming with history and scenic views. Take a walk along Main Street, which is dotted with quaint boutiques and welcoming cafés. As you meander, share stories and enjoy the town's vibrant atmosphere, making for a relaxed and engaging start to your date​​. Here are the best locations to visit:
Tarrytown Music Hall for a live performance
Sunnyside, the home of Washington Irving, for a touch of history
2. Irvington: An Artistic Escape
Next, venture to Irvington, a town with a lively downtown and beautiful parks overlooking the Hudson. Visit the local art galleries and discuss your favorite pieces, offering a window into each other's perspectives. The parks provide a serene setting to continue your conversation and enjoy the tranquility of the river​​. We recommend that you go to:
Matthiessen Park for scenic riverside views
Red Hat on the River for dining with an elegant atmosphere
3. Dobbs Ferry: Culinary Discovery
For a taste of local flavor, head to Dobbs Ferry. The town's downtown is a foodie's delight, with restaurants catering to a variety of palates. Choose a spot where you can indulge in culinary delights while taking in the riverside ambiance. A shared meal is a classic date element, allowing for an intimate exchange in a relaxed setting​​. Places to visit include:
The Dobbs Ferry Waterfront Park for a leisurely stroll
The Parlor for a casual yet chic pizza dinner
4. Cortlandt: Outdoor Adventure
If you're looking to add some excitement to the mix, Cortlandt's parks offer a bevy of outdoor activities. Engage in a friendly competition or a collaborative activity like kayaking or hiking, providing a dynamic way to connect with your date. The town's natural backdrop is perfect for those who prefer an active date or to simply enjoy nature's display​​. Consider visiting:
Blue Mountain Reservation for hiking and outdoor activities
Table 9 for a relaxed dining experience with a view
5. Sleepy Hollow: Historical Intrigue
Wrap up your date in Sleepy Hollow, a village steeped in legend. Visit Philipsburg Manor or take a spooky evening tour, diving into the lore of the Headless Horseman. The shared thrill of exploring the town's eerie history can be an exhilarating end to your date, setting the stage for a memorable story to look back on​​. Locations to explore include:
Kingsland Point Park for scenic views of the lighthouse
Bridge View Tavern for a dinner with local charm
Tips for a Successful First Date
Be Attentive: Listen and engage with what your date is sharing.
Plan Flexibly: Have a loose plan but be open to spontaneity based on how the date unfolds.
Create Comfort: Choose places that allow for both conversation and comfortable silence.
Explore Shared Interests: Pick activities that reflect shared interests to create a meaningful connection.
Wrapping Up the Date
As the evening winds down, take a moment to reflect on the experiences shared. The Rivertowns' eclectic mix of arts, history, and nature offers a perfect backdrop to a first date. It's the conversations and shared moments, from the laughter over a meal to the thrill of a new discovery, that forge the first links in what could be a lasting connection.