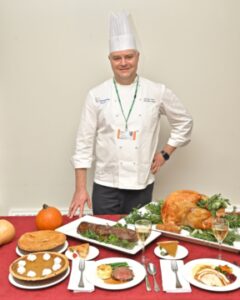 Phelps Hospital and its Michelin-star Chef, Andrew Cain, along with executive sous chef, Kelly Walker, will join food trucks from across the region to headline the Phelps ninth annual Hospital Food, Wine and Beer Fest on Sunday, April 30, from 1-3 p.m., on the hospital's 69-acre campus.
Proceeds from this event will support the expansion of the Phelps FARMacy program, a campus-wide gardening initiative that builds community and fosters wellness through healthy food and healing spaces. The festival will be held adjacent to the Phelps Inter-generational garden, which has been funded by prior food fest events.
"Food not only nourishes our health but our soul," said Andrew Cain, regional executive chef at Phelps Hospital. "It is an honor to cook quality, fresh and delicious meals for our patients. I hope our community can share in our hospital's celebration to heal and promote health, which is our FARMacy gardens focus."
There will be a tasting and live cooking demonstration from both chefs that will feature a forest mushroom and farro risotto with English pea puree and a matcha and Valrhona white chocolate mousse. The food trucks will also feature some amazing fare, including plant-based options provided by the Westchester Burger Company, and other savory and sweet delights from Poke Motion, Gyro Uno, Arthur Ave Wood Fire Pizza and Jimmy John's Ice Cream Truck.
Fueled by the knowledge that food is powerful medicine, Chef Cain has helped transform what patients think of as "hospital food" at Phelps by bringing restaurant-quality meals to patients based on the idea that wholesome dining options with fresh ingredients are central to the mission of improving health and quality of life.
For more information and to purchase tickets please contact Marissa Coratti at 914-366-3104 or mcoratti@northwell.edu. To donate and buy tickets click here.