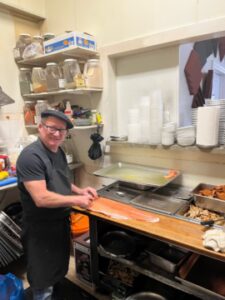 On Saturday afternoons you'll find Rob Venuti behind the counter at Carmine's Italian Deli and Café in Elmsford, stuffing a wedge with prosciutto and provolone. 
Come Saturday night, you might find him on the deli's small stage, belting out Deep Purple's Highway Star with his band, The Surf. 
Venuti, who's owned Carmine's for the past two decades, has teamed up with music producer and marketer Joe Palombo to expand his menu to offer Music @ The Deli, a series of Saturday night shows featuring a range of rock, funk and blues. The lineup includes themed shows like Southern Rock and Women Who Rock. 
"It's a passion play for Rob," Palombo said recently. "After 19 years he wants to reinvent himself, he wants to show his life's work and put that on display, and I'm helping him do that." 
You might catch a Santana tribute band, or a female-fronted outfit that plays the Stone Temple Pilots. The White Plains High School Songwriters Club and the high school cover band Puppets For Hire have found a home at Carmine's. Milo Z's funk band is coming in February. That's the kind of eclectic musical community Palombo says they're trying to build at Carmine's. 
The roster includes some well-known local and regional bands, but Palombo steers clear of the ones in rotation at other venues. "We're looking for unique," he says. 
The scene is relaxed and musician-friendly: Drums, amps and lighting are set up and ready to go for the talent before they take the stage. The bands collect proceeds from the door and get fed, to boot.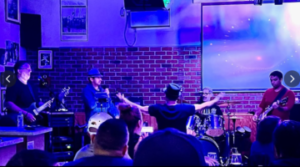 "It's really almost like a plug-and-play" for the bands, he said. Admission is $10 in advance, $15 at the door, with tickets for some acts priced higher.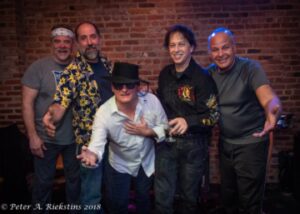 "What we're really trying to develop is a music hub and a music community," says Palombo, whose background includes standup comedy and acting. "Musicians will come, they'll hang out. … This is a place where musicians will have a home." 
Hours after its tables are occupied by customers lunching on sandwiches like the Goodfella or the Rocky Balboa, Carmine's welcomes about 65 people seated together family-style, plus some standing room, with a small dance floor. In the warm weather, bands perform outdoors in front of about 40 people. Beer, wine and a dinner menu are available, but no liquor — it's not that kind of scene. 
"We try to put all the tables together so people get to know each other," says Palombo, 59, a longtime White Plains resident who recently moved to West Harrison. "It's a fun, relaxed place, that's really what the motivation is." 
Carmine's Deli is located at 7 Old Road in Elmsford. Visit facebook.com/groups/musicatcarmines/events, facebook.com/LiveMusicAtCarmines/ or call 914-345-2605. Visit MusicAtTheDeli.EventBrite.com for tickets.