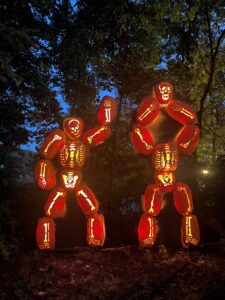 The Great Jack O'Lantern Blaze: Hudson Valley is back in town! My family couldn't wait to finally go, because the "town" in "back in town" happens to be our town, so we'd caught glimpses of the annual event's set-up while getting groceries and picking up pizza at the ShopRite Center next door.
There are certain things we've come to expect from The Blaze (which my two kids lovingly call "The Pumpkin Thing"): an incredible amount of expertly carved and illuminated Jack O'Lanterns (about 7,000 to be almost-exact), an original atmospheric soundtrack, pumpkin-themed gifts, and autumnal treats. All these things were there, but there was more, too.
The "jack" smith was back this year, after making its debut last year to the delight of my horror-loving kid, wielding its ax over its poor bodiless victim. The Blazin' River display was back, too (my personal favorite) with its lit-up water and luminescent underwater creatures. All the favorites from years past were there, but this year there were a few new additions: a twirling pumpkin Ferris wheel, a Circus Sideshow, even larger dinosaurs, and a Day of the Dead celebration.
"I want to explore the whole place!" my 5-year-old kept shouting as she ran around. "It's like a museum that you just look at!" I'm not sure exactly what she meant by the latter statement, but I agreed with the joyful sentiment.
One of our favorite new additions were the Pumpkin Pals. Think of them as a cross between Minions and Potato Heads—pumpkins wearing silly costumes and posing in dramatic ways. "They brought a bit of levity to it all," my spouse said, and it's true. The Pumpkin Pals (who we named "Pumpkids" before we learned their real name) are hidden throughout the 18th-century landscape and are such a delight to find.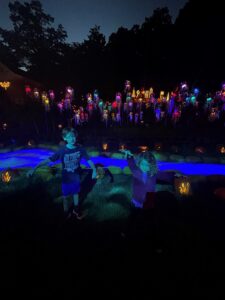 As we neared the end, I asked my kids what their favorite parts of The Blaze were. My 8-year-old said, "The haunted house," meaning Van Cortlandt Manor, with its eerily beautiful viny lightshow. My younger said, simply, "The pumpkins." When I pressed for more detail, she elaborated: "Their different faces."
But of course—let's be real—a favorite for both my kids is the gift shop, which is better than ever this year. When told they could pick one item each, my older got what can only be described as a pumpkin light saber and my younger picked a light-up purple spider who she immediately named Synley. We also surprised them with vanilla cake pops shaped like Jack O'Lanterns which proved delicious. "I just ate his eye," my younger informed us as we walked back to our car. "His eye is chocolate!"
On the drive home, blinking Synley was suctioned to the car window and my older announced that he would dress as a bloody Aaron Judge for Halloween and it became clear that, despite the alarmingly warm weather, Spooky Season had officially begun.
The Greet Jack O'Lantern Blaze: Hudson Valley runs from September 15 – November 19 at Van Cortlandt Manor in Croton-on-Hudson, NY.
Photos supplied by Caedra Scott-Flaherty.