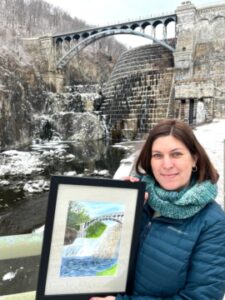 Croton-on-Hudson artist Lesley Phillips has been painting since childhood. "I just kept coming back to it, trying to master it. I am still learning, but with each painting I feel like I am growing more confident in my abilities." Seeking a way to relax during the height of the Covid pandemic, Lesley sought on-line art classes.  
Wanting to try something new, she fell in love with watercolors, and in March the watercolors she created were displayed at Croton River Artisans Gallery which featured her as a visiting artist. "I reached out to the gallery because I wanted to share with the Croton community my love of nature," says Lesley, who gets inspired by the world around her. In addition to painting nature, animals and pet portraits, she loves to experiment with subjects, evidenced by her watercolor of Dr. Martin Luther King Jr. 
The mission of the 10 artists who founded Croton River Artisans Gallery in 2022 is to support community artists like Lesley, who moved from Chicago to Croton in 2002 to be closer to family in the Hudson Valley. The gallery has a visiting artist committee that reviews artist applications. Jeff Thornton, one of the gallery founders, says "we felt her work would be a good fit. It demonstrates a skillful use of light, shadow and a beautiful sense of color." 
*** 
As a certified Child Life Specialist, Lesley's passion for creative expression helps children with varying abilities at Blythedale Children's Hospital, where she's worked for five years. "Each child has unique goals, and art is therapeutic. I use a variety of modalities, incorporating play and creative arts as a form of self-expression."  
Introducing creativity into the hospital environment not only adds a dimension of normalcy but provides children with a needed diversion from their illnesses and treatments.  Rather than conduct group art classes, Lesley works with each child and family individually.  
Being a parent herself — to son Misha (17) and daughter Sarafina (9) — has helped Lesley relate to what the patients' parents are experiencing. She recently organized a parental watercolor group that participants found very relaxing. "I've had many positive experiences with children and their families. However, one of the most rewarding was a former patient revisiting Blythedale after discharge and telling me about the art they continued to create at home. Knowing I made a lasting impression meant so much to me."  
When Lesley paints, she is often accompanied by Sarafina, who has shown an interest in painting since a toddler.  
Donna Landi, a resident of Sleepy Hollow, has contributed to River Journal, Hudson Valley Magazine, and other publications.