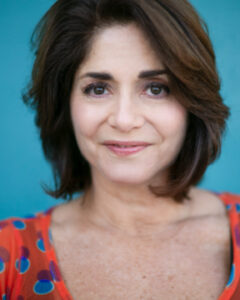 Emmy Award winner and Croton-on-Hudson resident Jennifer ("Jen") Jiles has driven her career with one dream in mind: to perform. To make that dream come true, Jennifer auditioned for everything she could. When she moved to New York City after graduating from SUNY Purchase, that dream started to come to fruition. She was becoming the star of the show (or, it seems, every show!). 
Jennifer's career started at Radio City Music Hall in 1993, where she performed in 144 shows as a Rockette in the Radio City Christmas Spectacular and was featured in the Macy's Thanksgiving Day Parade and on Late Night with David Letterman. That same year, Jennifer received her first Emmy Award for her work as a host for DYNAMETS!, a New York Mets TV series for kids that ran on SportsChannel NY for four years. 
With two big-time dreams accomplished, Jennifer found herself setting even bigger goals—ones that were more personal and less focused on dance. "Because I was a dancer," Jennifer says, "I started out in musical theater, but then quickly learned that I didn't want to be a chorus girl—I wanted the chorus girls (and boys) backing me up!"  
*** 
With dance credits removed from her resume, she started to gain traction in the theater, playing Agnes Gooch in the musical Mame alongside actresses Samantha Eggar and Shani Wallis, and joining The Odd Couple national tour with Tim Conway and Tom Poston—a performance that elicited her Actors' Equity card.  
As a child in Poughkeepsie, the now actress, producer and writer was inspired by Hollywood's most hilarious women. "I couldn't decide between being Carol Burnett, Lucille Ball or Fanny Brice/Barbra Streisand," Jennifer says. And these women continued to be her biggest influences when she decided to create her own work in the late '90s—including a Carol Burnett–inspired comedy group. Called Third Rail Comedy, the group featured Rob Corddry and became the house group at Gotham Comedy Club for four years.  

Jennifer is now shaping her future projects by drawing on her past. "I'm a writer/producer for Curveballs, a comedy series about the behind-the-scenes of a baseball show for kids (remember my Mets show?)." Jennifer plays a harried producer trying to bring the sports culture into the 21st century. She's also the co-creator and producer for Turn Your Clutter into Cash with antiques expert Stacey Winnick, founder of the famed Chappaqua Moms Sales Facebook group. 
*** 
What's next for Jennifer? Well, a lot. "I have my eye on doing a lot more comedic roles in film and television, more voice acting in animation, and recording my one-woman show Kicking & Screaming [about being a Rockette] as a narrative podcast." She also has her eye on the dead—spiritually speaking, of course. Not only is Jennifer creating and producing a show on four psychic mediums (called The DeMystics), but she's been a practicing evidential psychic medium since 2019.  
Jennifer, Priscilla Keresey, Theresa Turetzky and Karen Breslin—the four mediums of "The DeMystics"—can often be found at Peekskill's Body Axis Studio's Psychic Sundays. (To sign up for Psychic Sundays or inquire about private or group sessions, email evidentialmediumwell@gmail.com.) 
Stephanie Conte is a resident of Peekskill.