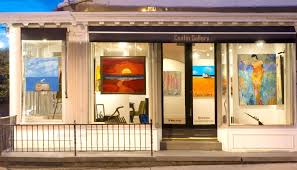 When pondering New Year's Resolutions, we'd like to suggest a new type of goal setting. We recommend building visits to local art galleries into your 2019 calendar. How will such planning lead to reaching your goals? Let's unpack it.
At this time of year, it's exciting to gear up for productivity and imagine the satisfaction that follows when we are our best selves. Yet when it comes to goal setting, good intentions and landmines abound in equal measures. It's no secret that some of the most common New Year's resolutions fall flat before the end of the first quarter.
Instead, we'd like to propose visiting art galleries as a compelling strategy for reaching some of the truly important goals many of us identify at the start of a new year. Spending more time with friends and family, sticking to a budget, picking up a new hobby and generally living life to the fullest. When considered in this context, gallery visits check all the boxes.
Time with friends and family may in fact be more abundant than we realize – it's just that the same old hang outs have grown stale, and screen time at home dilutes connections. A night out at a local gallery creates a unique shared experience – there are new spaces to take in, and of course, the artwork to consider together. Simply taking turns discussing what you see provides an opportunity to get to know your closest cohorts in a new way. (Plus, imagine the games of eye-spy with younger children!)
From a financial standpoint, there aren't many outings that match the budget-friendly, engaging experiences that galleries offer. It's also fun to step out in our local communities to mix and mingle with neighbors we may not meet otherwise, and art can provide a built-in conversation starter.
We know that diving into an art gallery resolution may seem daunting. If you feel intimidated, some quick research can help level the playing field. Before a gallery visit, use its and the artists' websites and Instagram accounts to gain familiarity – a bit of background can go a long way when you walk through the door. Also remember gallery employees welcome questions about the art, the artists and the gallery itself. The actual act of collecting art is a personal process of ongoing consideration – galleries respect this and will not pressure you while answering your questions. Instead, they will impart additional context to what's on view.
When we ask ourselves at this time next year, 'upon reflection, how do I feel about what I've accomplished in 2019', we think that resolving to visit galleries will yield very satisfying results.
Follow us throughout the year as we dive into art galleries in the River Towns, around Westchester and even a little farther afield.