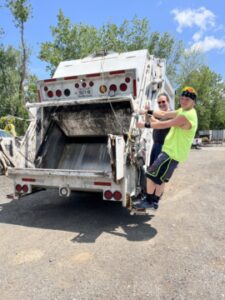 My husband's father, Joe Luisi, was a sanitation worker during the 1950s in Astoria, Queens. Back then Joe knew everyone in the neighborhood he served, and they relied on him to lift their heavy steel garbage cans and toss the garbage in the truck quickly each morning. Joe fought the weather elements, bugs, and rats. But he still had a smile on his face as he took pride in keeping the neighborhood clean. Civil servants like Joe are often overlooked as most of us are still sleeping when they take care of our communities.  
One day over the winter this changed for me. I was outside picking up my empty garbage cans when the sanitation truck passed me. One of the guys swiftly hopped on the back, smiled, and enthusiastically waved at me. It was as if I was face to face with my father-in-law. The smile and the pride were identical. I called our sanitation company, Vignola. The owner, Vincent Vignola, was not surprised by my call.  
"That's our Charlie," he said. "He's a community celebrity. I get calls and letters about him all the time."  
I asked if my husband, Eddie, and I could meet Charlie Odell and his partner Ray Wojciechowski at the mechanics' yard. I mostly wanted them to meet Eddie, which they did. We also got a few lessons from the "Garbologists of North Rockland." 
"There's a science to garbage," Odell said. "The winter is cold, but the summer is harder because the garbage turns to soup, and you never get used to the smell."  
Vignola explained how the rainy weather was dangerous for his guys. "They wore garbage bags on their feet. If their feet got wet, they stayed that way for the shift and they were prone to staph infections."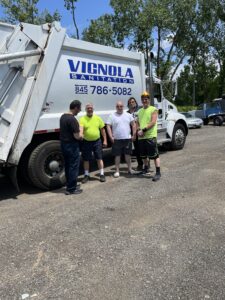 But technology changed that with the availability of waterproof socks. "It's the best $27.99 I've ever spent," Odell said.  
Other hazards include racoons and bears. Wojciechowski and Odell protect each other. Wojciechowski drives the truck and warns Odell when bears are eating the garbage or destroying the large steel containers. The strong bears show up every Wednesday because they know the routine, especially in Tomkins Cove. "I never stick my hand in the garbage, because my friend lost his finger to a possum that way."  
Despite the hazards Odell loves his job. "Your neighbors are our neighbors too. The people are what I love most." Eddie then got on the back of the truck and Odell admiringly explained to Eddie that back in his dad's day, garbage men were super strong. "There wasn't recycling, and people put everything in those steel cans. And they were very heavy."  
Story and Photos By Lizzy Luisi
Lizzy Luisi is a former associate producer for Good Morning America and The Oprah Winfrey Show. She enjoys writing about local residents who serve their communities.