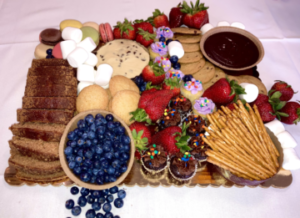 A dessert board is the perfect thing to bring to someone's house for a special party or graduation.  It's super easy to make and there's very little clean up. If I'm serving it at home, I make it on a beautiful platter or cutting board. If I'm bringing it to a party, I always make it on a cake board, so everything is disposable, and the host doesn't need to worry about returning anything to me. I always start with real ganache (recipe below) and edible cookie dough and then I fill it in with cookies, pretzels, fresh fruit – really anything goes here. The idea is to make it abundant and have fun with it! 
Chocolate ganache 
Chocolate ganache is one of my favorite things to make and eat. I ice cakes with it, it's great for hot fudge, makes yummy hot chocolate, and is ideal for fondue. It works great for this dessert board as well.  
Put two cups of chocolate chips in a shallow bowl

 
Heat 2 cups of cream on the stove until it boils – be careful not to let it boil over

 

Pour the hot cream over 2 cups of chocolate chips

 

Cover the bowl and let it sit for ten minutes

 

Stir it until the chips dissolve

 
This glossy miracle is ganache. Enjoy and stay sweet!  
Susan O'Keefe is the baker/owner of Baked by Susan in Croton-on-Hudson.