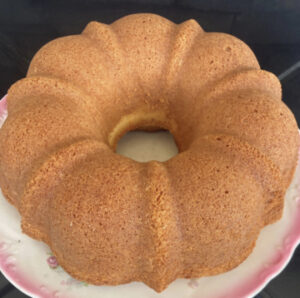 I'm a sucker for pound cake; there's nothing better in my opinion. My favorite way to serve it is with fresh strawberries and whipped cream – it's the perfect summertime dessert. I love it toasted with salted butter for breakfast. It can also be cubed and used for fondue.  
This recipe has been around forever, and the story is that it was passed around verbally because it was so easy to remember. It's basically one pound each of four basic ingredients. It's a great recipe to have because it is so versatile. I'm sharing it with you now in the hopes that you will get baking and enjoy it as much as I do.   
Classic Pound Cake 
1 pound salted butter, softened 

 

2 cups sugar

 

3 cups flour

 

9 large eggs

 
Preheat oven to 350. Spray a 10- cup Bundt pan nonstick spray and set aside. 
This recipe works best with a mixer. Mix butter and sugar together for about 2 minutes until light and fluffy. 
Add the eggs, one at a time, mixing until combined and scraping after each egg. 
Add the flour slowly until combined, scraping the sides.   
Spread the batter into the pan. Bake one hour until a toothpick inserted in the center comes out clean meaning it can have crumbs attached but no wet batter. Let it cool for about 15 minutes before carefully unmolding. Slice and serve. 
Stay sweet!  Susan 
Susan O'Keefe is the baker/owner of Baked by Susan in Croton-on-Hudson.