College students take different paths to pursue their goals and dreams. They do their best to achieve them even if it means exerting more effort than the ordinary ones. Some do their best in learning, others prefer to ask someone "please help with my assignment" and focus on extracurricular. To make the most out of the available opportunities, they opt to join the school orchestra or a sports team. Some of these extracurricular activities are not only meant to enhance their members' skills but also give financial aid to struggling but excellent ones.
If you aspire to be a student-athlete in your desired university, you must know that it will not be an easy path. While doing these are commendable and sometimes practical, you will encounter difficulties in juggling your priorities. You might find yourself choosing your studies over your other commitments if you do not strategize well. To overcome the struggles of being a student-athlete, you can take note of the tips shared below.
Know Your Options Beforehand
Before entering college, you will benefit from knowing some student-athlete tips that some students miss out on. Your teacher or guidance counselor might have advised you to search for the most suitable school for your target college program. To come up with a decision, you will ask current or former students, read some reviews about the school, or look for program curriculum and activities. While doing this, you can establish the pros and cons, which will help you narrow down your choices.
This recommendation can also be applied to student-athletes who are looking for the best school. Because your sports engagement in college can lead to great career opportunities in the future, you must take this matter seriously. Therefore, it would be best if you research the sport standing of the universities or colleges you have chosen. This will help you know all the available options before deciding. Moreover, you can ask credible people, like former coaches, teachers, or athletes. Their experience and testimonies can also aid you in deciding. Without researching or surveying, you might miss out on a lot of opportunities and benefits that could have been yours had you known about them.
Manage Your Time Well
Choosing to be a student-athlete comes with perks, but it would surely bring you challenges as well. As a college student, you are expected to be present in your classes and participate in various school activities, whether academic or extracurricular. But as a student-athlete, you must attend your training sessions regularly. This way, you will not receive negative feedback from your coaches, trainers, and teammates. You also need to prepare your mind and body for competitions.
To do all your duties and responsibilities, you must learn how to manage your time well. You cannot only focus on what you want and expect not to suffer consequences. At some point in your college life, your teachers will ask you to submit academic papers. Whether writing is your strength or not, doing these requirements can take a lot of your time. You can look for companies who can carry out the demands of students who ask, "Please write my essay for me." By availing of custom writing services, you can attend practices and training sessions without sacrificing your grades.
Understand That It's About More Than How Well You Play
If you aspire to be a student-athlete, you might focus all your energy and efforts on developing your skills and training to be the best. However, you must understand that being competitive and skilled is not everything in this endeavor. Yes, it might help you be noticed by potential recruiters. But if you do not possess all the qualities of their successful student-athletes, you might be ignored entirely. They can easily look for a different person if they think you are not a good match to their team or not trainable.
You probably think that they need great players alone, but character and values are crucial for them as well. Because they will work with you for a long time, they must be cautious by doing a background check first. They will observe or look for information about how you interact with your classmates, teachers, and teammates. These will help the recruiters pinpoint your strengths and weaknesses, either skill- or character-wise, and then use them in scouting you or not.
Show Your True Character
As mentioned previously, your character is one of the factors that can affect your life as a student-athlete and career as a professional. If you are a natural-born leader, it will be manifested through your actions and initiatives. If you are persevering and diligent, others will notice it right away.
However, you might not be on your best behavior at all times. In this case, it would be best to share your thoughts with your trainer or team captain. This way, they can help you address your concerns without ruining your rapport with the other members of the team. You must remember that as a student-athlete, you carry the name of your school with you. Your actions and behavior should embody the values that your school promotes. If not, you might be in big trouble.
Don't Forget to Get Enough Sleep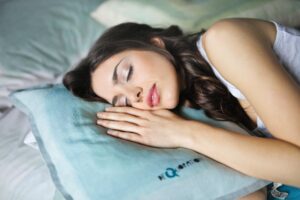 One of the things you must not neglect as a student and college athlete is getting enough sleep. Ordinary students already struggle to get sufficient sleep because of too much schoolwork. But student-athletes carry more responsibilities that affect their sleep hygiene. They tend to come home late from practices and competitions only to realize that they still have homework to accomplish. Although they are already exhausted, they still strive to do their projects even if it means neglecting sleep.
However, doing this all the time can be detrimental to their physical and mental health. College students are recommended to get seven to eight hours of sleep every day. Doing this helps them concentrate and be more productive during class hours. For student-athletes, they need sleep to regain the energy they lost during their training sessions. Also, this will help them maintain good physical and mental health so that they will be prepared for upcoming games and tournaments.
Plan For Your Life After Graduation
Your career, whether as an athlete or a professional, does not end in college. You want to study in your dream school for a reason beyond sports or friendships, and that is your future. Even if it is challenging, you hope to achieve all your life goals, especially after graduation. Therefore, it would be best to plan out your life for the next five, ten, or twenty years. This way, all your focus and energy will be dedicated to attaining your dream job.
If you think that athletes in college have everything planned for them, you are mistaken. Even if you are the greatest player, you will still arrive at certain crossroads — become a professional athlete or a licensed professional. No matter what you choose, it would be best that you consider what you really want to do. Focus on your wants and not what others want for you.
In conclusion, choosing to be a student-athlete will have life-changing impacts on you. Your life during and after college will be affected by the decisions you will make. However, you can minimize having regrets and struggles by following the tips mentioned above. You must know your options beforehand, value character and skills, and manage your time. Moreover, it would be best if you get enough sleep every day and plan your life after graduation. Even if you encounter struggles along the way, remember that you can achieve your dreams, too.
Author of the article:
Darren Barden is a writing coach. Darren is working on new campaigns as well as re-jigging and putting a slant on work in progress. He is able to write short, mid, and long form copy for truly omnichannel campaigns such as: OOH, TV, digital, social networks, print, and more for WriteMyEssayForMe.