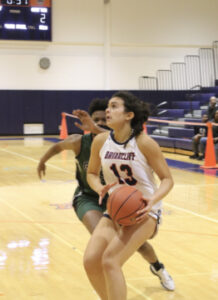 Briarcliff High School senior, Catherine "Cat" Carrafiello thrives in both on the court and in the classroom while also staying involved in a wide range of extracurricular activities. She is on both the varsity basketball and tennis teams. As a basketball player, she has earned all-league, all-section, and all-league player of the year awards while serving as a two-time captain.   
Academically, she is a member of the National Honor Society, Rho Kappa Honor Society, sixth man, and Cat has also volunteered at 914 Cares and Fish & Loaves Community Food Pantry. Beginning in the fall, Carrafiello will begin her newest athletic and academic chapter at Middlebury College where she will play on the varsity basketball team. 
Briarcliff High School's athletic director, Chris Drosopoulos describes Cat's remarkable well-roundedness.  
"As the athletic director at Briarcliff, for close to 25 years, I haven't seen a more rounded student athlete as Catherine Carrafiello. She is an exceptional student and athlete, who embodies true leadership, and the is a quintessential role model. She has moral character, is always trying to do the right things, for the right reasons. She's kind, patient, understanding, and she leads by example. She is one of the best student athletes that I've worked with, in my tenure here at Briarcliff. She's well deserving for this scholar athlete award," Drosopoulous said. 
River Journal spent time getting to know Cat by asking her questions about both her academics and athletics.  
River Journal: At what age did you start playing sports? 
Cat Carrafiello: The first sport I participated in was AYSO soccer when I was 5 years old and CYO basketball in third grade. 
RJ: How do you motivate yourself?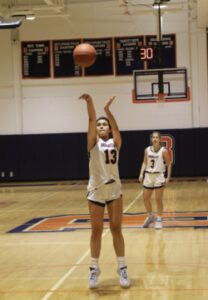 CC: I motivate myself by setting daily goals in the classroom, for practice or my game that day. Setting personal goals in school and in athletics has been the most effective way for me to hold myself accountable to give 110%. 
RJ: How do you manage your time among athletics, academics, recreation, family life, etc.? 
CC: I find that making a to-do list allows me to stay organized while balancing academics, athletics, and having some down time for my friends and family. 
RJ: What is the most rewarding part of athletics for you? 
CC: The most obvious reward would be achieving my goals. However, athletics has opened many doors for me that I wasn't necessarily expecting, like the relationships and bonds I form with my teammates, coaches, and trainers. 
RJ: Who has inspired you, helping you to stay focused to meet your goals? 
CC: My mom is my biggest inspiration. She always has my goals in mind and is pushing me to be the best version of myself. 
RJ: What is your most satisfying single achievement? 
CC: My most satisfying single achievement is committing to Middlebury for women's basketball. 
RJ: How would you describe your experience as a student-athlete in one sentence? 
CC: My experience has been both demanding and rewarding.