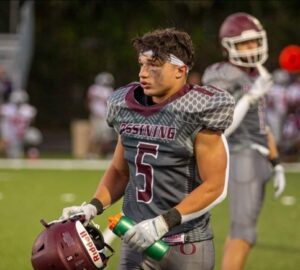 River Journal caught up with Ossining High School senior Anthony Lofaro, a standout athlete on both the varsity wrestling and football teams, who was selected as a nominee for the 2023 Heart of a Giant Award. This recognition celebrates high school student-athletes in the tri-state area who exemplify unparalleled work ethic and an unwavering passion for their sport, both on and off the field. 
Lofaro was nominated by Ossining's head Football Coach, Larry McRae, who said "Anthony has proven to be not only a great football player, but even a better person. Anthony is a leader on and off the field. The same pride he takes in his athletics is the same pride he takes at being a good person. When one of your best players is also one of your hardest workers it makes coaching a lot easier."  
The Heart of a Giant Award identifies team members who embody five essential characteristics: commitment, character, teamwork, dedication and will. When not on the playing field, Lofaro was an honor roll student and a volunteer at Rising Above Boundaries Summer Enrichment Camp run by Home Run Against Drugs. 
River Journal: At what age did you start playing sports? 
Anthony Lofaro: My athletic career started at the age of 4, playing soccer in Ossining AYSO. The following year I began playing flag football for Ossining Little League Football and wrestling for the Ossining youth wrestling program. 
RJ: How do you motivate yourself?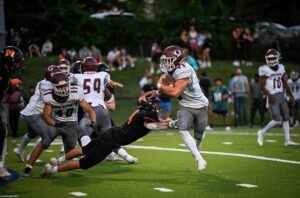 AL: I get motivated by setting personal goals for myself. I enjoy the challenge of competition and improving my skills. But most importantly, I'm motivated every time I'm on the field because I truly enjoy playing this sport. 
RJ: How do you manage your time among athletics, academics, recreation, family life, etc.?   
AL: I can't lie, it's not easy but planning ahead, organizing a calendar and mostly not procrastinating. I try to get things done right away. I'm extremely fortunate to have such amazing parents who love and support me. 
RJ: What is the most rewarding part of athletics for you?  
AL: There is no greater feeling than being victorious. Knowing all the hard work and preparation we put in as a team has paid off.  
RJ: Who has inspired you, helping you to stay focused to meet your goals? 
AL: My parents and my coaches. They're always there to guide me, making sure I'm doing what I'm supposed to do, and they continue to push me to improve myself and reach my goals on and off the field. 
RJ: What is your most satisfying single achievement (could be athletic, academic, etc.)? 
AL: Being an All-Section athlete in two sports (football and wrestling) and to do so when I didn't play the entire season in either sport was a great feeling. My football season was cut short due to an on-field injury during a game that required surgery and months of rehabilitation. I was blessed to have had an amazing surgeon and physical therapist, along with the support of my family, coaches, and team I was able to get back to athletics sooner than expected. I missed the first half of the wrestling season but finished the season strong. 
RJ: How would you describe your experience as a student-athlete in one sentence? 
AL: It is very time consuming and at times challenging, but it's extremely rewarding when your hard work pays off. 
RJ: Any other comments you wish to make? 
AL: I have been so fortunate to have had the opportunity to play sports here in Ossining and to have such amazing coaches in each and every sport that I have played. My coaches encourage me every day to be a better me. They are tough, but still give us the respect and the trust we need. They teach us how to be a team, confident, a leader, and still hold us accountable for what we do. 
PHOTO: Lofaro in Uniform
CAPTION: PHOTO: Lofaro runs for daylight
CAPTION: Lofaro runs to daylight against Mamaroneck. Photo supplied