River Journal caught up with Irvington High School senior Marcus Canton, a standout athlete on the varsity football, basketball and track teams, who was selected as a nominee for the 2023 Heart of a Giant Award. This recognition celebrates high school student-athletes in the Tri-State area who exemplify unparalleled work ethic and an unwavering passion for their sport, both on and off the field.  
As part of Canton's Heart of a Giant nomination, his coaches stated: "Marcus is an outstanding athlete which may be his least impressive trait. As the best player on our team, he has been a leader on and off the field. His freshmen year he made a point of shaking every coach's hand at the end of every practice to thank them. This has spread to the entire team and is now a staple of ours to end practice. Marcus tore his ACL in June at a combine trying to continue his athletic career in college. Since that time, he has become invaluable to the coaches and acts as an extension of them. Despite his injury and status as our best player, he has somehow made himself more valuable to his teammates and coaches. Marcus is a young man who has been forced to deal with the disappointment of his senior season yet has taken this as an opportunity to better everyone around him while never complaining about his circumstances. For an athlete as gifted as he is it would have been easy to cry woe is me. Marcus has done the opposite while continuing to be a 4.0 student, captain and school leader. This young man has shown attributes beyond his years while being forced to watch his brothers play their senior season without him." 
Here's a Q&A with Canton: 
River Journal: At what age did you start playing sports?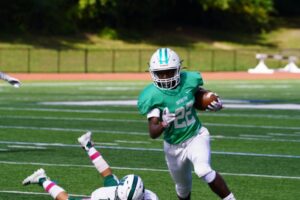 Marcus Canton: I started playing sports around first grade. Flag football was one of the first at i9 football. I started tackle football in 3rd grade with the White Plains Tigers. 
RJ: How do you motivate yourself? 
MC: I believe that I have something to prove in everything I do. Whether that's in the classroom or on the field it's evident. Especially on the field I know that I have to put on a show. I have to prove I'm good enough to be out there every time. That mindset motivates me to be at my best.  
RJ: How do you manage your time among athletics, academics, recreation, family life, etc?   
MC: I try to split my time based on importance. Academics have to come first every time, the student before the athlete. In my free time, I'm always trying to improve myself, whether that's running, lifting, or even film. Lastly, spending time with my family or anything else can be slotted in. 
RJ: What is the most rewarding part of athletics for you? 
MC: I think the most rewarding part is seeing the little things click. Especially in a sport like football, there are so many little things that have to go right for a team's success. Watching something like a downfield block, a perfect snap, or even a penalty-free game leads to something much bigger like a touchdown or a win. That piece of the puzzle is the most rewarding for me.  
RJ: Who has inspired you, helping you to stay focused to meet your goals? 
MC: My dad has inspired and helped me stay focused to meet my goals. He has been a part of everything I've done athletically. He's been to every game, helped me in the gym, helped me learn some new moves. He's gotten me through the hardest parts of my injuries. He's done everything. He's inspired me also because of his own success. I feel as though I have to live up to everything he has accomplished, which is one more thing that pushes me to my limits. 
RJ: What is your most satifying single achievement? 
MC: My most satisfying achievement would be my all section selection. I think that the award was a very important step. Not only did I prove I was good enough to compete but I was able to open some eyes for our team. I think that teams did have to start respecting us each week. 
RJ: How would you describe your experience as a student-athlete in one sentence? 
MC: A massive roller coaster with huge ups and downs 
PHOTO: Marcus Canton
CAPTION: Canton tore his ACL in June but he has become invaluable to the coaches and acts as an extension of them. Photo supplied 
PHOTO: Marcus Running 
CAPTION: Canton's coaches say his outstanding athletic skills may be his least impressive trait. Photo supplied