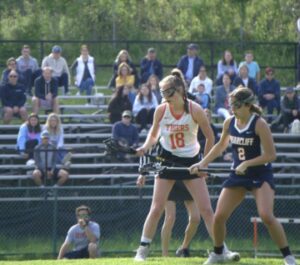 For Croton-Harmon High School senior Cassidy Croce, athletic achievement literally is in her bones.
Mom Colleen played varsity soccer and volleyball at the same school, continuing with soccer at SUNY Delhi.
Dad Edward is an alumnus of Mamaroneck High School who lettered in varsity football, hockey and baseball.
As for Cassidy's brother Collin, like father, like son. Also a three-letter man, he played soccer, basketball, and baseball as a member of Croton-Harmon's Class of 2021. 
Cassidy will be playing women's lacrosse this fall at SUNY Oswego, majoring in Adolescent Education.  
Highlights of her Croton-Harmon four-sport career include two-time lacrosse team captain, two-time lacrosse Section 1 All-League, two-time volleyball team captain, two-time volleyball Section 1 all-league, volleyball Section 1 all-conference, volleyball league championship and section finals, plus a combined three seasons on indoor track and girls basketball. 
Yet she still has time for National Honor Society, Athletic Leadership Council, Athletic Advisory Committee and Teen Leadership Council. Cassidy's good citizenship includes volunteering for the Harry Chapin Run Against Hunger, Croton Recreation basketball camp, and Croton Youth girls lacrosse.
"Cassidy approaches each practice day with the mentality to improve her craft," said Croton-Harmon Director of Athletics DJ Goldman, who adds, "She is a leader on the field who inspires her teammates to work to their fullest potential."
School Counselor Ms. Kirby Mosenthal said Cassidy is "A hardworking student who does an impressive job of balancing her schoolwork with her sports. She is a model student-athlete who demonstrates what it means to work hard both in the classroom and on the field." 
Cassidy Croce Q+A
River Journal North > At what age did you start playing sports?  
Cassidy Croce > I started playing AYSO soccer and Little League tee ball at five years old. I was later introduced to basketball under CYO Holy Name of Mary and picked up Croton Youth Lacrosse when I was in third grade. 
RJN > How do you motivate yourself? 
CC > In class and on the field, I set high expectations and hold myself accountable for mistakes to learn and grow from them. I focus on one day at a time to give everything my all. 
RJN > How do you manage your time?   
CC > I don't have time to waste. I keep procrastination to a minimum to get my schoolwork done as quickly and efficiently as possible, leaving myself plenty of time to spend with friends and family. 
RJN > What is the most rewarding part of athletics? 
CC > Little things, like a simple "great game" or compliment from an opposing coach after a contest, go a long way. Also, I've gained opportunities and relationships that I wouldn't have if it wasn't for my determination and love for the game. 
RJN > Who has inspired you? 
CC > My parents have helped me reach my goals. But if it wasn't for all my teammates and coaches over the years, I wouldn't be the same person or player I am today. They've pushed me to be the best I can be, and I am very thankful for the relationships I have with them. 
RJN> What is your single most satisfying achievement? 
CC > Committing to play collegiate lacrosse coming from a small school like mine is one of my most satisfying achievements. To be one of five athletes to come out of the Croton-Harmon girls lacrosse program to play in college is something I'm proud of, as it has been an incredible journey. 
RJN > Describe your experience as a student-athlete in one sentence. 
CC > I have reached thrilling highs and upsetting lows, yet that has taught me a lot about myself as a person.