Through the generous support of Regeneron, four times a year River Journal publishes the on-site report of a high school science student from the River Towns who is paired with a Regeneron scientist to experience what it is like to put STEM education to work in the real world.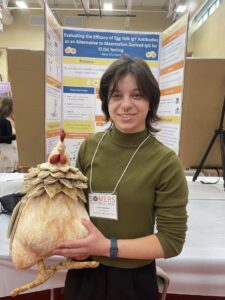 Every year, high schools are allowed to nominate two sophomores to apply for the Regeneron High School Student Mentorship Program. Due to my interest in biology, my science research teachers at Ossining High School nominated me for the program. I am extremely fortunate to have been accepted into this program, as there are a high number of applicants, but few are accepted. During my time there, I worked with my mentor, Candice Boutot, in the Preclinical Antibodies and Assay Development group. Working at Regeneron has been an incredibly amazing experience. This summer, I spent many hours working hands-on in the lab, attended daily lecture classes taught by Regeneron scientists, met lots of other high school students interested in STEM. Plus, there was free ice cream every Thursday! 
One of the things that fascinated me the most while working at Regeneron was the drug development process. Working within the preclinical development group, I saw and supported the team with certain steps in processes necessary to prepare drugs for clinical trials. Of course, before testing drugs, they need to be developed, and even before that, targets need to be identified.  
One day, during a daily lecture, one of the founders of the Regeneron Genetics Center came in to talk to us about their work. Essentially, what they do is sequence DNA from millions of people to identify novel genetic changes that protect from, or increase, risk for developing a specific disease. This was one of the most fascinating lectures for me, and I immediately wanted to learn more about it. When I was offered the opportunity to speak one-on-one with Dr. Scott MacDonnell, director of the new target investigation group, I was thrilled, and I immediately accepted the opportunity.  
MacDonnell's group is responsible for performing experiments to validate the genetic associations identified by the RGC in addition to understanding the biology and determining if the genetic findings can be translated into a drug target. When asked how he prioritizes the efforts of within his group, MacDonnell responded that, as the director of his group, his role is to work with senior leadership to develop a strategy for his team of scientists that help direct their efforts into areas with high unmet need and importantly, where the science shows, are the most promising for creating innovative medicines. According to MacDonnell, the most difficult part of his job is the tough decisions he needs to make about allocation of the group's efforts. Using experimental data, he needs to build confidence in the therapeutic potential of their approach and prioritize the group's resources accordingly.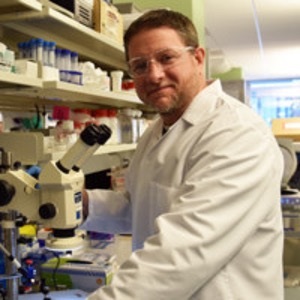 When I asked MacDonnell what his favorite part of his job is, he said that it is an incredibly rewarding feeling knowing that what he works on every day can potentially improve the lives of so many people. Over the course of his career, he has seen his team's research reach the clinic, and he said that knowing that his work has the potential to help people live healthier, longer lives is one of the reasons he loves what he does.  
When I asked him what advice he has for a high schooler interested in STEM, he said to take advantage of every opportunity that presents itself and to follow the path of what interests you the most. There are so many different directions you can go in STEM, so trying out lots of avenues is the only way to truly find your passion. He explained how he studied exercise physiology in college, and then worked for five years at a nuclear power plant giving exercise stress tests to evaluate employee health. He said that he enjoyed what he did, but it didn't fulfill him in the way he thought it would, and he wanted to learn more about the underlying biology. When he started college, he felt confident about his future career direction, but after gaining more experience during those five years, he realized what he was most passionate about.  As a result, he went back to school to earn his master's and Ph.D.  
He said if he could have done anything differently, he would have tried during college to get a better sense of what fields of study are out there, talk to more people, and take advantage of more opportunities earlier on because it would have helped direct his career. He said now that he found something he loves, it makes work so much more fulfilling.