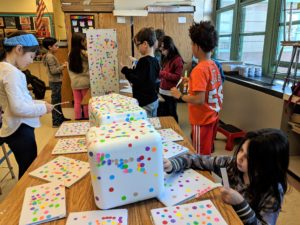 The art of Japan's Yayoi Kusama, top-selling female artist in the world, inspired students at Dows Lane Elementary School and Main Street School to express their imagination and create their own art through the PTSA-funded Eyes on Art program. 
Kusama has created a legacy of artwork that spans the disciplines of painting, sculpture, installation, performance, poetry and literary fiction. Through the program, which ran from November 26-30 and December 14-20, trained parent volunteers taught the students about Kusama's various elements of art and how she used those to convey a message.   
"Through Eyes on Art, the students are provided with a new lens through which to see works of art," Dows Lane art teacher Marisa Micolucci said.  
The students created their own installation art piece which included a large bookshelf, books and Styrofoam cooler boxes and viewed a video of an installation piece at the Gallery of Modern Art in Brisbane, Australia, called "The Obliteration Room." Each student received sheets of colorful stickers made from the best sticker printer to add to the installation pieces.  
Nina Rossi, Main Street School art teacher and chairperson of the Visual Arts Program, was pleased that the Eyes on Art program includes more diverse and contemporary artists.  
"As always, the program continues to be a valuable connection between our elementary art program and the community," Rossi said.