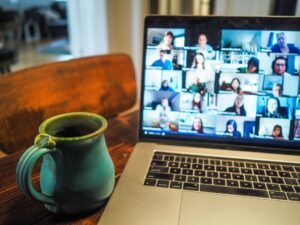 Online or offline, the willingness to learn is what gets people going. Considering the current situation where we are dealing with the COVID-19 pandemic, online education has an upper hand on the old-school offline way of imparting knowledge. 
There are multiple benefits of online education like flexibility, convenience, time-effectiveness, less commute, environmentally friendly, and the ability to learn from your couch in your pajamas. Additionally, cost-saving is an important aspect to consider in online education because there is no need for dedicated physical infrastructure, printed materials, or electricity bills to take care of.
Students, too, benefit a lot from online coaching classes. There is no worry of missing any lecture as students can go over the recordings at any time they want. 
At the same time, choosing a career as an online coach is not very easy as you need to be able to build connections with the virtual learners. But once you learn how to do this and gain an understanding of the right tools to deliver information, you can earn a lot of money by conducting online coaching classes.
Once you have created an online coaching business, scaling it is also easy if you know the right platforms and techniques to impart knowledge. So, let's see some of the inexpensive ways of conducting coaching classes online:
Online Meeting Applications
With online meeting applications/software like Zoom, Google Duo, MS Teams, Cisco Webex, Skype, Hangouts, etc. it has become very convenient to conduct online meetings. Most of the applications listed above are open source, meaning that they are free to download and use. 
These applications are also very easy to use and understand for parents, children, and teachers. The quality of calls and video are so good that it will make you feel as if you are in a physical classroom. With these platforms, teachers can train as many students as they want which makes each of these a very powerful medium.
Learning Management Systems
A Learning Management System(LMS) is a tool that coaching institutes, corporates, and online coaches can use to deliver learning material to their students. LMS like Paylocity has some very interesting features that will help you not just teach but also track your learner's progress efficiently and cost-effectively. 
Moreover, the Paylocity pricing structure also includes a free trial to understand if it is the right platform for you. Today, businesses small & large alike are making use of platforms like LMS to train & onboard their employees. 
Live Meetings in Social Media Apps
People have become addicted to social media and chances are many of your learners are also avid users. So why not use these platforms to deliver training?
Insta Live and Facebook Live have become increasingly popular ways of connecting with people to transfer knowledge. As an online coach, it is important to leverage this opportunity to bring fresh energy into your classes.
Using social media live sessions can interest and intrigue a lot of learners, and they will be excited to attend your sessions. You can conduct small sessions through this channel, encourage your audience to ask questions, and also see their feedback & emojis in their comments.
Over the past few years, podcasts have taken the world by storm. Just like radios were a big deal in the 80s, podcasts are now the new radio. By developing skills to speak confidently, you can record the coaching topics and relevant stories to upload them on a platform that features podcasts. 
Using podcasts for an online coaching business is an excellent idea as it allows learners to consume information on the go. The best part is – they don't require a huge investment, just like starting a blog. Creative, right?!
CONCLUSION: 
Online coaching is taking a lead in the education industry and rightly so. Did we miss anything? Share your ideas for effective online coaching with minimal investment in the comments below.