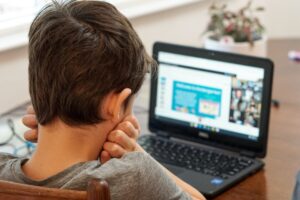 You've probably seen a lot of scaremongering about how to keep your children safe on the internet. You may rest easy knowing that your kid is surfing the internet safely if you use some common sense and take some basic safeguards. Parents should keep active in their children's digital lives by learning about the apps they use, implementing parental controls when appropriate, and blocking and reporting those who make them feel uncomfortable. People aren't always who they seem in online contexts where identity is easy to falsify, so kids and parents should be cautious. In this article, we'll look at some of the things you can do to keep your children safe online. You can guarantee that they have a nice and safe internet experience by following these guidelines.
Set Up Parental Controls
Innocent internet searches can result in not-so-innocent outcomes, so it's important to understand how to use the parental controls/search limits provided by websites, internet service providers like Circles Life Australia, and devices to keep track of what they're doing. Google's SafeSearch Filters, for example, will filter sites that contain explicit sexual content. Just go Settings/SafeSearch Filters to enable it. Parental controls can assist protect your youngster from seeing and accessing most sexual or violent material, though they are not 100% accurate.
Paid cyber security brisbane features and tools will provide further security and control. Parental controls are sometimes built straight into the cables modem/router that comes with your cable subscription. Additionally, you can use various spy apps on your phone if you feel like you need to know what's going on with your children's devices at all times.
Talk to Your Kids
Parents should encourage their kids to communicate to a trusted adult about online threats, only chat with individuals they know, keep their online accounts secret, block people they don't know, and trust their instincts—if something makes them uncomfortable, they should notify a trusted adult for their safety. When your child starts using technology, talk to them about what they are reading and viewing on the internet. As time goes by, continue this conversation so you can stay up-to-date with all of their uses for it, not only to understand but also to approve. We as parents must keep an eye out when our kids go online because there could be dangers lurking around every corner.
Know Who Their Friends Are
Cyberbullying is a serious issue that impacts more than just the person being targeted. As adults, we know how important it can be for children and teenagers to stay safe online; however, if they haven't been trained in cyber-savvy skills early on then there's a great chance of making friends with the wrong person. You should make friends and connections in your kid's social media circles, and keep a watch on what they're posting on their social media accounts. Your children may complain, but explain that this is one of the conditions you must meet before granting them access. It's essential to emphasize to them that being open to everything as a child is necessary for their safety. Your children may feel you are invading their privacy, but encourage and educate them that you are just simply protecting them.
Keep an Eye on Your Child's Social Media Account
Users can chat with one another and share music, photographs, and films once they have joined the network. The sites provide a fun method for your kid to keep in touch with friends, family, and peers. Children consider social media sites to be highly "cool," and they may be encouraged to join by their peers. Social media may be a dangerous place for children, especially if they do not properly protect their personal information. Monitoring their account as a parent may protect your child against cyberbullying, privacy invasion, identity theft, and other threats. Furthermore, 15% of children receive unsolicited inappropriate texts and are targets of internet predators, parents should be allowed to view text conversations at any time and communicate clearly with their kids about why or when this is essential.
Conclusion
Educating your children about the risks of the internet is a great way to keep them safe online. Talk about the dangers waiting in the shadows of the Internet. Avoid scaring children, but make sure they are aware of the risks. Not only should you not limit their access, but you should also provide them with the information they need to fully take advantage of the many advantages the internet has to offer in terms of education, entertainment, and social interaction.