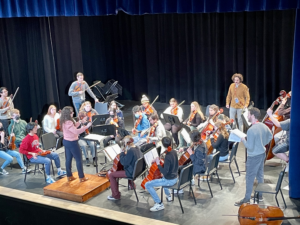 If you've ever witnessed a performance of classical music by world-class musicians locally, it might have  been presented by Friends of Music Concerts, an all-volunteer, non-profit organization that, for 68 years, has brought the finest chamber music to Westchester audiences.
One of its longest-standing initiatives has been the Partnership in Education program. Each spring, professional chamber groups run an inspiring and engaging schedule of master classes and performances with a Westchester-based middle and/or high school orchestra.
In early February, the New York City-based Tesla Quartet spent the day with the student musicians of Hendrick Hudson High School. The quartet was formed at The Juilliard School in 2008 and has since established itself as one of the most promising young ensembles in New York.
Among topics covered were listening skills while performing with an ensemble, expression, and soaring melodies. They encouraged the students to "sound beautiful all the way through the note" and "make the music a part of you."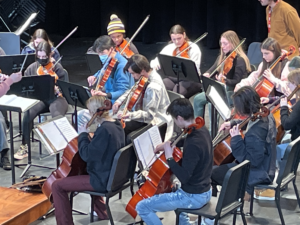 Friends of Music Concerts Board President Susan Harris and Board Director Rosella Ranno were in attendance and left impressed and touched. Ranno noted, "Students were attentive, very responsive to the Tesla [Quartet]'s suggestions, [and] immediate improvement was noticeable."
Lauren Morobitio, the only music teacher in New York State who is involved with the United Sound Project, could not stop raving about the impact the day had on her students.
To Friends of Music Concerts, she wrote, "Thank you so much for the incredible experience yesterday! My students learned so much. The Tesla Quartet provided them with a memorable and educational experience. Feeling inspired, several students came back to my room after school to practice."
The next program is slated for Tuesday, March 7, with the Sleepy Hollow Middle School and High School chamber groups.