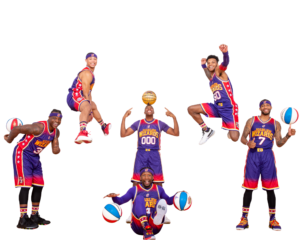 The always crowd-pleasing Harlem Wizards – who headline exhibitions and fundraisers showcasing on-court antics associated for years with the barnstorming Harlem Globetrotters – will take on the Hen Hud All Stars Saturday, March 11, at 7 p.m., in an all-for-fun, high-energy event to benefit the Hendrick Hudson Educational Foundation, with educational grants to all five Hen Hud district schools and scholarships to graduating seniors.
The Wizards typically draw crowds of between 500-600, with special appeal to elementary school families.  The Swoop team will play at Hen Hud, featuring Swoop (Dwayne Simpson), Emcee (David Paul), Glitch (Bacari Copeland), Dime (Martez Williams), Deuce (Daniel Singleton), Big J (John Smith), Fresh Prince (Tishean Emmanuel). 
Tickets are $20 for students (3 and under free), $25 general admission, $25 reserved, and $60 for courtside seats. Doors for the 7 p.m. game time open at 6 p.m. Tickets should be purchased online in advance by clicking HERE. Online sales close three hours prior to the 7 p.m. game time. 
For sponsorship information, contact immediately Pio at map1437105@gmail.com or Beth Gruber at beth.gruber@henhudschools.org. Sponsor levels range from $50 to $500, with logos on team shirts, posters, game program, and social media.