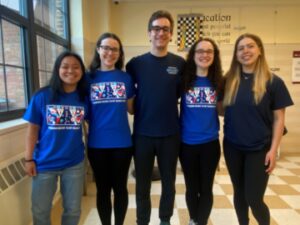 Ossining is finding itself on the national stage – and this month in Dallas, Texas, years of hard work in the lab and classroom will be put to the test.   
If Regeneron International Science and Engineering Fair 2023 has a certain New York flair, don't be shocked. That's because five of Ossining High School's STEM students have been invited to this prestigious science research competition that brings together the most accomplished high school students from around the country.  
"The amount of support we get from teachers and peers really helps us," says Sarah Jennings, whose research is titled, "​Electron Transport Chain Acts as Potential Regulator of ER-Mitochondria Interactions." "The environment created within the [Ossining program] here is really special and unique. Without the support from our friends as well, we wouldn't be here."  
According to the Society for Science website, this year's Regeneron ISEF competition will bring together "1,700 high school students from around the world who will be competing for nearly $9 million in awards during Regeneron ISEF."  
Although students in the competition consist of juniors and seniors, the process starts at the very beginning of high school. Students apply to the science research program as freshman and are then accepted as sophomores.  
Now, the week of May 14-19 in Dallas will be the culmination of years of countless hours of research, long nights in the classroom, and times spent running through poster board presentations.  
"We've built up so much practice over the years, by preparing for different types of competitions year-round (PowerPoint and poster board) and reading the literature of our chosen fields," said Audrey Schnecker, whose research is titled, "Infestation of Parthenogenetic Haemaphysalis longicornis Ticks in New York Schoolyards: Implications for Spread of Tick-Borne Disease." 
While each Ossining student is hoping to impress their peers and mentors in Dallas, the real impact of the school's science research program can be traced back to the hallways of Ossining High School, where researchers and mentors guide and offer advice to students throughout their four years.  
"The working relationship between the students and their mentors fosters the success of the mentorship," said Angelo Piccirillo, the director of Ossining's science research program. "We do our best to foster a support foundation for the students as well, as the learning curve is extremely steep."  
As expected, these STEM projects are focused on super in-depth, scientific topics that often put high school students at the research and study level of a college student, if not beyond. But while science is certainly a passion for this group of Ossining high schoolers, it's not necessarily their long term goal all the time. In fact, some students have their eyes set on totally different studies in college, even if science still remains a passion of theirs.  
Lucy Roach, whose research is titled, "Validity and Utility of Smudge.io's CNS Tap Test for Measuring Fatigue in Adolescent Athletes," will be pursuing a sports broadcasting track upon entering college. But while she's still focused on the STEM field, she's found a lot of skills in the program that will aid her moving forward.  
"Being able to successfully read and write professional papers really drew me into the program," she said.  
For others, being able to work in the STEM program took a love of science to the next level.  
"I think the program took my interest in science a step further, because now I always want to continue doing research in the future," added Jennings.  
That's what Ossining High School is creating: It's not necessarily fostering a lifelong love for science as much as it is developing lifelong academic and time management skills that are transferable well beyond the classroom walls.  
Now, these five students have an opportunity to not only tie together all their hard work and show off their knowledge to their peers, but to show that Ossining is truly one of the premier science research programs out there.  
"I feel like it's a big responsibility [to represent Ossining at ISEF in Dallas]," said Schnecker. "Although I'm a little nervous, I want to make everyone proud as well. This will really put us on the map and spark interest for younger students in the district." 
One week to prove their skills in these various areas of science research. But ultimately, the lessons learned through what Ossining's STEM program has provided will last a lifetime. School at Ossining High School may soon come to an end with college around the corner. ISEF gives these quintet of Ossining residents a golden opportunity to cap off their high school years by making a major impact on the community.  
Irvington Student Also Earns Spot in Science Fair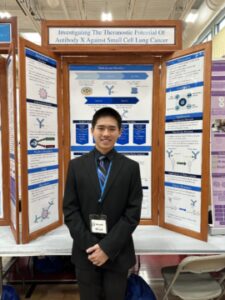 Irvington High School senior Maxwell Ma has also earned a spot at the Regeneron International Science & Engineering Fair in May. "Maxwell's passion and dedication to his research is inspiring," said  Honors Biology & Science Research Teacher Nadia Parikka. "Winning an opportunity to attend ISEF is like going to the Olympics of science research. We are very proud."