It was a beautiful day in Bear Country and Briarcliff High School athletes were on the field and in the school gymnasium doing what they love. With perfect weather on their side, morale was high and coaches were optimistic about the season ahead.
Varsity Girls Soccer Head Coach David Villalobos had a special treat for the athletes.
"I invited a good friend of mine, Nick Kyriakidis, who is assistant Boys Soccer Coach at Western Connecticut University, to do a one day clinic," he said. "Nick and I played club soccer together before we went to college and our fathers even played together way back in the day, so I asked him to come help the athletes prepare for our first few games. I hope the athletes can learn some new ideas from someone with another style of coaching. Nick knows his stuff and is passionate about the sport, so I am excited to see what happens in the upcoming games. I have been waiting a year for this – I am excited to be back."
While the athletes were working with Kyriakidis on the field, the Varsity Boys soccer team prepared for scrimmages against Eastchester and Sleepy Hollow.
"We are very excited this season," Head Coach Brandon Beck said. "We are the returning Section One's champions and we know that it comes with a big responsibility ahead."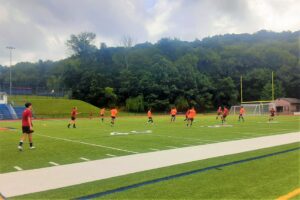 According to Beck, there are many returning players this year.
"It feels like we are starting from where we left off," he said. "We hope to continue with being organized, with being successful at working together and really leaning on each other because at the end of the day, that's what it's all about: having a fun experience for every single person on the team."
Varsity Girls Tennis coach, Richard Finn, is taking over for retired coach Denise Hamlin this year.
"This is my first year as coach at Briarcliff, and I have big shoes to fill," he said. "The program at Briarcliff is always a high-level one and they have a history of excellence on the court. I think we look pretty good and we are looking forward to starting games. I love the energy and enthusiasm of the players and their hard work. It's going to be an exciting season."
At the gym, Girls Varsity Volleyball practiced with Head Coach James Horan.
"The students are very passionate this year and looking to redeem themselves from last season," he said. "Last season was a rebuilding season, as we had mostly young players who had to build team chemistry and start communicating with each other. Now we are here and we will see how the athletes stand up to the competitive schools this season. I am very excited."
"I would like to wish our teams and coaches the best of luck this season," said Briarcliff Athletics Director Chris Drosopoulos. "May you inspire others along the way – you have the power to achieve great things. Go Bears!"
Other fall sports are Varsity Cheerleading, Varsity and modified Cross Country, Varsity and Modified Field Hockey, Varsity and Modified football, Varsity Boys Volleyball, JV and Modified Boys and Girls soccer, Varsity Girls Swimming and Diving, JV Girls Tennis and JV and Modified Volleyball.