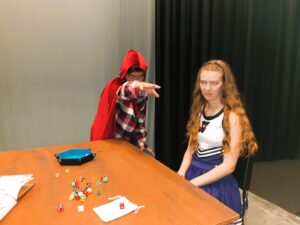 Briarcliff High School is putting on a show for the inner geek in all of us.
Whether or not you are a self-professed geek who is into Dungeons and Dragons, "She Kills Monsters" is sure to delight anyone who is looking for a fun, action-filled show with a heart.
The play, which takes place in the 1990s, revolves around two sisters: Agnes, the older sister, is a popular girl in her school, while Tilly, who is a geek, passes away in a car accident before the show begins.
Agnes finds a module, which is like a script for a Dungeons and Dragons game, that had been written byTilly before she died. Agnes begins to play the game to find out more about Tilly, who appears as an avatar in the game. By playing the game, Agnes can "see" her sister again and interact with her.
"It is a story about overcoming grief, but in a very hopeful way," said Director Paul Kite. "It is very comical and lighthearted, but there is also drama. It feels like a comic book movie to me."
Sophomore Jasmine Behr, who plays Tilly, has enjoyed rehearsals and spending time with the other students.
"I love hanging out and bonding with the students," she said. "It has been really fun; theater is my main hobby."
Senior Scarlett Young, who plays Agnes, loved the message the show is sending.
"I can really connect with the sister relationship and how it grows during the show," she said. "I love that the show sends a really good message about sisterhood and that we should cherish the people that we have in our lives and be appreciative of what we have."
Scarlett's favorite scene was her fight scene.
"I'm a big fan of the scene that I have with a shapeshifter who turns into Agnes' boyfriend, because I get to kick him," she joked. "The show has a lot of fight scenes and action; it's very entertaining. It could get some people into Dungeons and Dragons."
Senior Gordon Beckler plays Chuck, the Dungeon Master, who runs the game and is also the narrator.
"I read a lot about the game when I was in middle school," he said. "I haven't really played it before, so being in the show gave me a window into how it's actually played. There are a lot of big Dungeons and Dragons fans in the cast."
"It was really fun to build the set because of the aesthetic of everything," said Conor Duperrouzel, who is also acting in the show. "I wasn't involved in painting the banners, but I think they look really authentic. It's also great because everyone is working together, so there's a sense of community; it's a great way to make friends."
The show is recommended for middle school students and up.
Performances will take place at the high school theater as follows:
•
Friday, November 17 at 7:30 p.m.
•
Saturday, November 18 at 7:30 p.m.
•
Sunday, November 19 at 2:30 p.m.
Tickets are available for $15 and can be purchased at www.showtix4u.com.
For any ticket-related inquiries, please contact briarcliffticketsales @ gmail.com.