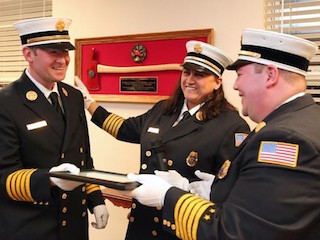 Kelly M. Murphy has been a lifelong resident of the Village of Tarrytown. She was born and raised in the community and has served proudly as a 1st Assistant Chief in the Tarrytown Volunteer Fire Department. She made local history when she was sworn in as Chief Engineer of the Fire Department on Friday, April 8.
Photo: Chief Kelly Murphy (center) at swearing-in ceremony.
Ms. Murphy joined the Tarrytown Fire Department in August of 2003. She has served as Captain (3 years), Lieutenant (3 years), and member of the Standard Operating Guideline Committee. She also has served as a Lieutenant and a Yeoman on the Department's Marine 5  unit. Kelly has gone through many fire training courses and continued to do so even as a current Assistant Chief. She has been a company training officer for years and has continued to support her company officers with trainings and drills.
Professionally, Ms. Murphy works for the New York City Department of Education as a Physical Education/Health Teacher in the Washington Heights section at Middle School 322. She has a Bachelor's Degree in Physical Education, a Master's Degree in Health Education and has continued to take classes in her profession. She also teaches swimming, is a certified lifeguard and birthday party coordinator for the "Family YMCA at Tarrytown" and is now serving as the Tarrytown/Sleepy Hollow Summer Camps Director.
She offered this statement regarding being made Chief: "It is truly an honor to be the next leader of the Tarrytown Fire Department for 2016-2017."