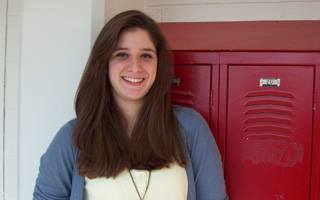 Sleepy Hollow senior Alexia Boumis could not be more content.
In the midst of enjoying her final year of high school, she has already received honorable mention throughout the community.  Alexia was one of the selected swimmers who competed at the New York State Swimming and Diving Championships in Buffalo, NY this past November. The captain of "SHEDI" – the combined girls swim team of Sleepy Hollow, Edgemont, and Irvington – she partook in an exceptional season of 8-1.
Alexia qualified in four events that took her to Sectionals this past fall: the 50 Freestyle, 100 Freestyle, 400 Freestyle relay and the 200 Freestyle relay. The swimmers in the 200 Freestyle relay finished 3rd during Sectionals out of 38 relay teams, which placed them 26th in the State. This success prompted their promotion to the State Championships. On the first day of competing at "States," the relay team, made up of Eilis Klein, Megan Gallagher, Caroline Mitchell and Alexia Boumis, finished 23rd, a placement that qualified them for finals which took place the following day.
The girls went on to finish 18th in the State.
"I felt a lot of pressure, because I started the relay," Alexia stated, "but we proved we deserved our spot."
Extremely proud of her teammates, Alexia emanated the humility and dedication of a true athlete.
"We keep on growing each year; I couldn't have asked for better girls [to work with]." She smiled, "We went out with a bang."