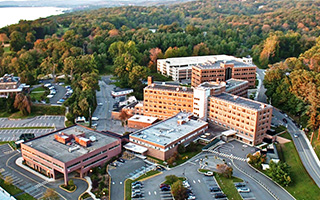 The Phelps Memorial Hospital Center Board of Directors has unanimously approved a letter of intent to explore joining the North Shore-LIJ Health System. The letter of intent allows North Shore-LIJ and Phelps Memorial to begin the due diligence process and enter into exclusive negotiations, with a goal of executing a final agreement by late summer for Phelps to become the health system's first hospital in Westchester County.
Once finalized, the partnership would open a new, exciting chapter in Phelps Memorial's 58-year history, preserving a rich legacy of exceptional care. Annually, the 238-bed community hospital and its more than 1,600 employees care for more than 8,000 inpatients and 325,000 outpatients. For North Shore-LIJ, the addition of Phelps Memorial would expand its coverage area beyond the City of New York and Long Island. With more than 48,000 employees, 17 hospitals and more than 400 outpatient physician practices, North Shore-LIJ is already the largest private employer in New York State and the State's largest integrated healthcare provider.
"The primary objective of the Phelps Board of Directors in seeking partnership with an academic medical center has been to continue to provide the same, if not enhanced, quality services that our community has come to depend upon," says Richard Sinni, Chair of the Phelps Board. "Joining with this world-class health system will enable us to fulfill this objective, while helping to ensure our stability in the changing healthcare environment. It is an honor to be selected as North Shore-LIJ's first hospital partner in Westchester."
North Shore-LIJ President and CEO Michael J. Dowling said that after an agreement is finalized, Phelps Memorial would continue to operate as a full-service hospital, meeting the needs of communities it serves throughout Westchester, as well as areas of Rockland, Putnam, and Dutchess counties in New York and Fairfield County in Connecticut. "By working in an integrated and collaborative way with clinical and administrative staff at Phelps Memorial, and investing in new initiatives and programs, we look forward to building on the hospital's unique operating niche as a physician- and patient-friendly facility that attracts clinical talent and patients from throughout the area," Mr. Dowling said.